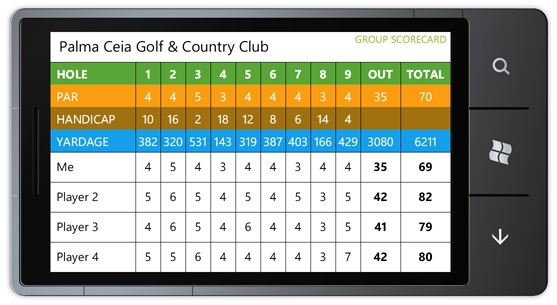 For those of you who enjoy golf, one of the best apps for golf fans in Marketplace just received an update to 1.7.
Executive Caddie features the ability to keep score for you and 3 other friends and keep statistics per hole.  It features a GPS rangefinder, along with a map view utilizing Bing Maps.  It has golf news, and gives you your overall statistics as you post more rounds.  After completing a round, it automatically emails you your scorecard.  Thousands of golf courses are supported, and in my experience, the developers will add a course upon request within 24-48 hours.
Version 1.7 adds the convenient new feature of an in-round scorecard, while squashing a few bugs in the process.  Executive Caddie is available in Marketplace here.
A free version, "Executive Caddie Lite" is also available here.
See the full press release after the break.
Version 1.7 of Executive Caddie for Windows Phone 7 was just approved! It should appear as a free update in the Marketplace on your phone. I suggest you download it if you haven't already.

New Stuff:

I'm really excited about this update. The major addition to this version is the "In-Round Scorecard", which is a view that shows the hole-by-hole scores for the group just like a paper scorecard. While you're in your round, just turn the phone sideways and the scorecard will appear. Turn the phone back vertical and the scorecard will go away. To switch between views of the front 9 and back 9, slide the scorecard left or right. I have attached a screenshot of the In-Round Scorecard to help you visualize it.

Bug Fixes:

Some of our members were experiencing crashes with the app. I finally figured out what the issue was. It turns out that it was an operating system issue, but I have successfully worked around it. If you care about the technical explanation, read the following paragraph, otherwise skip it. 🙂

The app was crashing when users were turning the phone sideways when starting or continuing a round. When the app is loading a round (a screen), the application bar (the black bar at the bottom of the screen) should already exist. The issue was that the app was trying to hide the application bar and display the scorecard, but the application bar didn't exist yet. Hence the crash. The application bar should have been initialized by the time a call was made to hide it. Basically I added a null check on the attempt to hide the application bar, and problem solved.

Feedback:

I sincerely appreciate everyone's feedback so far on the app. I am working hard to add the remaining features and implement the recommendations from everyone. I have over 5 months of programming into the app so far and I see the end in sight. Granted, the app will never be "done" but the features that I deem essential are close to being completed.

I also appreciate everyone's patience while I get everything finished. It's a lot of work and I want to ensure the app is error free and lots of fun to use.

Reviews:

Positive reviews are the life blood of our sales in the Marketplace. If you have something positive to say about the app, our customer service, or both… please take a moment and write a brief review for us. It has a tremendous impact. On the other hand, if you are having an issue with the app, please email me directly. I will do everything in my power to resolve the issue and make you happy.

Thank you so much for your support!

James Browning
Founder & Application Architect
Executive Caddie, LLC