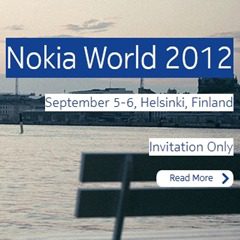 Nokia World 2012 was a much more private affair than Nokia World 2011, being mainly for industry insiders such as carrier procurement executives, distributors, suppliers and so forth.
Fortunately we have our sources and managed to get some feedback from the event, not all of which we can share.
Our source tells us that Nokia employees are extremely proud of the Nokia Lumia 920, despite feedback from some partners that the device is too thick and heavy. They were also all-in with Windows Phone, but not that happy with Microsoft, which they felt lacked the sense of urgency which Nokia exhibited.
They were also disappointed that Microsoft has not been marketing Windows Phone as aggressively as they could, but Microsoft has promised a marketing campaign in the order of hundreds of millions around Windows 8 and Windows Phone 8 over the next 6 months. This will be targeted at 4 major markets: US, Germany, UK and France.
With the Nokia Lumia 920, Nokia is also aiming to have accessories available at launch, and sees them as an important part of their strategy.
Nokia also basically confirmed that they were doing a tablet, but did not provide any further details.
Nokia exuded confidence in their position, and the CEOs of the various carriers seemed to have picked up on this also, asking all the right questions.
Hopefully Nokia's optimism will also infect the smartphone-buying public in general, and we will see the company rise back up the sales ranks over the next year or two.