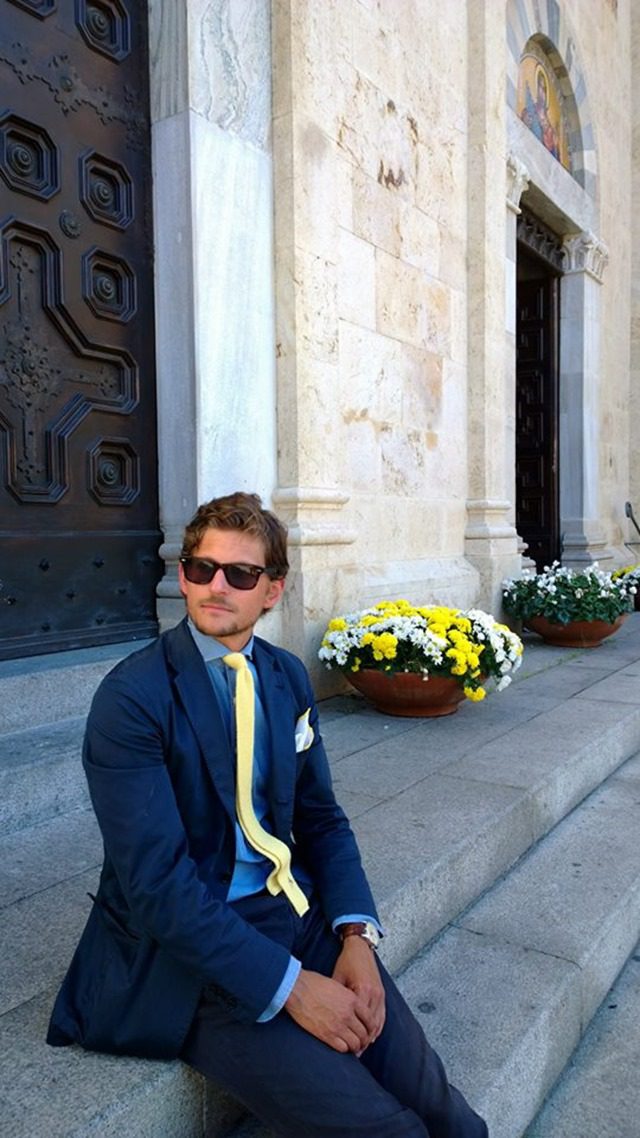 After Microsoft announced to acquire Nokia's devices line of business we all were curious what will happen to the guys working on positions like PR or marketing. While many employees will be transferred over to MS, the future of others has been unsure. We met Dennis Walter who works for Nokia Germany and asked him some questions. Now there is more clarity on things and the future does not look bad at all…
Mr. Walter is the man behind Nokia Germany's Facebook and Twitter page and his team is responsible for images like these.
We agreed to meet in Düsseldorf, not far away from Ratingen where Nokia Germany is located, and sat down in a cafe to talk a little about his position at Nokia and his and his team's future, as well as some personal things. Find the interview here after the break.
Why did you start working for Nokia?
o Nearly twelve months ago I started working for Nokia. Nokia has been a leader in the field for, let's say, the last ten years in terms of mobile technology. It's a highly competitive environment that we are working in, and the speed of how things progress in terms of mobile technology and the way we use technology, is very impressive. I think it's great to work for a company that always strives for ambitious goals, tries to come up with new ideas and approaches in terms of getting people to better communicate with each other. So when the opportunity presented itself, I hadn´t to think twice about the deal. It sounded way too interesting to pass on the chance to work for them. The team is really great and despite the challenging times we have to deal with our mindset is "go out there and be really good, and do something good for people". That´s why we are creating good products basically.
What do you like best about your job?
o I would not be able to mention a specific topic, but rather think of a mixture of different things. First of all it's the people working there. They are all really good in what they do, really outgoing and we are all working as a team so everyone's joining in the efforts of all his or her colleague. Everyone's helping out each other. That's for sure one thing. The other thing is that, at least in the field that I am working in, there´s no real limit as to what you can do. The only real confinement is your creativeness and time. You can meet bloggers such as you, I'm trying to tell interesting stories from different angles, working on corporations with other big brands or keep our community engaged. It´s super easy to come up with my own ideas and plans to really show what the brand and the product's all about: building great smartphones with loads of interesting features.
What do you not like?
o What I don't like about my job is the fact that despite all the efforts made, we still struggle with making more people recognize that Lumia smartphones are great. It's hard to be patient when you know you have a really good product at hand and already established Windows Phone as the third ecosystem, but the speed of convincing others is not as fast as you wish.
What is the most annoying kind of fan on Facebook and Twitter?
o First of all, any feedback we receive is valuable. From time to time it can be frustrating however, to answer complaints about things that either happened in the past or don´t lie within our direct responsibility. Things even get more complicated when emotions are involved, but you have to deal with that as professional as you can. What´s really nice to see is that we have a loyal fan base that stands up for us to defend us against unfair criticism.
How important is social media in marketing these days? How was it – let's say – five years ago?
o That's a good question. I think social media itself is still trying to define its role within the whole marketing department and how it can contribute to an enterprise´s success. Sometimes it´s hard to find the return on investment that you have on social media. I think there definitely is a return on invest, but proving it is not always easy. With all the platforms and all the services developing, its importance will definitely increase, even the more so if you think about all the use of mobile technology. Five years ago nobody would have imagined to use a phone to constantly take pictures of one´s food to share it with the world or steer your home´s heating system for example. The crucial point here is that the development will probably never come to an end, simply because mobile technology evolves and increases its influence on people´s daily lives.
Where do you get all your ideas from?
o Inspiration can be drawn from a multitude of sources. It's a mixture I guess. On the one hand, our team conjunctively creates ideas, just getting together and thinking about issues from different perspectives. Brainstorming sessions evolve into manageable ideas, so to say. And then, on the other hand, you surely can draw inspiration from all the other things out there, like another brand´s advertisement, or it could be a film, or a piece of art. Sometimes it's just something you notice in your private life, something that sparks a thought process, ending up in an idea. From a marketing/social media perspective you then need to think about how you can turn that into an interesting story and how you want to tell it.
What is your favorite post/tweet you have posted?
o Actually my most favorite one was from my UK colleagues, who got out to Apple when they launched their iPhone 5C. Their tweet has been the most retweeted brand tweet ever, with roughly 43,000 retweets, simply showing the Lumia Range and the phrase "imitation is the best form of flattery". It was witty, it was sent out in real time and made fun a competitor in a humorous and charming way. Tweets such as this will probably not sell devices in the first place, and it´s hard to believe a user saw that particular tweet and directly went to a Mediamarkt or Saturn and got a phone. The thing is that people who shared a good laugh about our tweet might consider Nokia as a brand or Lumia as a product more than someone else. So whenever someone's in the process of searching for a new phone, he should at least consider Lumia as the best, valuable alternative.
If you particularly think of Germany I think the thing we did with that Kit Kat stuff that was fun. So I think these two! – Isn't it forbidden in Germany to use other brands' products in your own advertising? – To be quite honest, really going into detail here is something that´s only interesting for attorneys…so let´s just say it depends…
Are there any misconceptions about Nokia that you actively combat?
o On prominent misconception clearly is the number of apps, or respectively missing apps, in the Windows Phone store. As of December 2013, more than 200.000 apps have been released in the store, effecting in having a Windows Phone version for 96% of the top ranking 100 apps from iOS and Android. We´re closing the gap quicker as ever and have the fastest developing App Store of all three ecosystems. What we´re still missing are thousands and thousands of alternating torch light apps – but I guess we can cope with that, as might the majority of Lumia fans.
How reliable are the answers we get from Nokia on Twitter and Facebook?
o In terms of reliability I would say it probably comes up to a hundred percent. There was one case in the past; it was about the Amber update. We officially stated the update was to roll out by a certain date, but then it got delayed by three days or something. The public outcry in social media was impressive – we were accused of lying and cheating, withholding a necessary update. Moral of the story: we refrain from communicating exact dates ever since.
Any comments on Nokia's (and your team's) future? Are you moving over to Microsoft?
o Microsoft will take over the Devices and Services segment from Nokia and we expect the closure of the deal during the first quarter. As my colleagues and I belong to the Devices and Services segment, we will move to be Microsoft employees by then. – So that means after that you maybe will be posting from Microsoft's fan page? – That is only one of many possible scenarios. As mentioned before, the deal has not been concluded and working processes are far from being established at this early stage.
How did you feel when Microsoft announced to acquire Nokia's Devices and Services line of business?
o Well actually, it wasn't that much of a shock to me. That might have to do with the fact that I have only been working for Nokia for eleven months. It surely has been different for my colleagues, who have been working for Nokia for, let's say, fifteen or twenty years – this was a very emotional moment. I am really optimistic about the future. There is so much chance to make new history and we´re all excited about what the future holds for us.
What is your favorite Nokia? Why?
o I think it is the 1520. Before I used that phone I was like "ok, it's reeeaaally big, and how is that going to fit into my pocket". But when I finally got my hands on it, all I thought about was all the advantages you have with a big screen. You easily get used to its size and you just love it for that. Despite being really big, it's not heavy and it clearly does not feel like as if you were carrying a brick around. And what really makes it stand out, is the powerful battery. Despite being a heavy user, I have a hard time draining the battery in one day.
What role does social media play in your life overall?
o I am definitely a social media nerd. I consider myself to be rather well informed about things going on and new services being offered. I am always keen on trying new things, not necessarily sticking to them if they don't live up to my expectations. On a side note, I am blogging myself, I'm much into reading others and take active part in online conversations on Facebook, Twitter, Instagram and others.
How comes you love wearing suits?
o When I started working some six and a half years ago, I was employed by a company that had a rather formal dress code deployed. It was common sense to wear a suit in the office. Right before I started, I bought three or four suits and tried to build a formal wardrobe from scratch. The more thought you put into it, the more you try to improve yourself and your appearance, cloth wise. Additionally, I started blogging about menswear and read a lot of other blogs, or getting in contact with superb dressers. I think this process of trial and error, look and learn can be attributed to pretty much every hobby, not just menswear.
I know many of our readers love them, too. Any hints on this for them?
o There's probably only one rule I would live by, and that's wearing whatever makes you feel comfortable. It's really no use suiting up if you don't feel like wearing suits. All the other things you may want to know about, like "hey, which color combination works best, how can I tell a bad fitting suit from a well-fitting one" comes with experience. The basic rule is to wear whatever makes you feel comfortable and take it from there.
Thank you very much for taking your time and answering our question! We really appreciate it and wish you and your team the best for the future!
o Many thanks, many thanks!