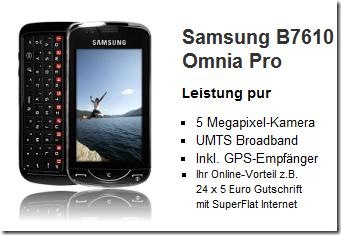 Or at least 12 things.
CareAce, a Samsung Windows Mobile focussed site, has a list of 12 things you never knew about the Samsung B7610 Omnia Pro.
The list covers details about:
Microphone
Multimedia Output (Headset and TV Out)
The "Composer Access Key"
microSD and microSDHC Cards
Dual User-Interface (UI) Modes
SRS CS Headphone
Translation feature through SmartReader
Universal Search
Improved GPS Positioning
Visual Connectivity
Compatible and Supports DLNA
SWYPE Input Keyboard
If any of the above interest you read more here.