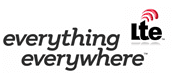 Much sooner than expected, but still more than a year after USA, a UK operator has received permission from Ofcom to start delivering 4 G services.
Everything Everywhere, the joint venture between T-Mobile UK and Orange, has received permission to reuse their existing spectrum in the 1800MHz band for LTE.
The other carriers will have to wait till 2013 when the full auction of the 800MHz and 2.6GHz bands is scheduled to occur.
The next iPhone will very likely have LTE, and the date of availability suggests an LTE variant may come to the UK market.  It does however also open up the possibility of super-fast LTE Windows Phones finally being usable and available in UK.
Read more about the development at TNW.com here.