It looks like the next week is going to be a busy one for Windows Mobile powered smartphones.  Computex 2008 is running at the moment, and Taiwan's finest ODM's are showing off their new wares.  Today E-TEN unveiled its fall line-up, consiting of 4 very desirable devices.
 
The Glofiish DX900 , a HSDPA/EDGE device, with GPS, WIFI and a 3 megapixel autofocus camera features dual-SIM and dual standby, allowing for example business travelers to use local SIM card and home SIM card in the same device.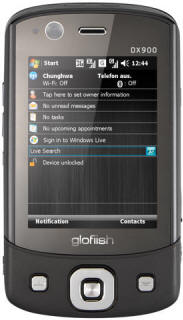 The Glofiish V900, with a VGA screen, supports multiple over the air TV standards including DVB-T/H and T-DMB/DAB, all in a very selvte package.
The Glofiish X900, for more business-focussed users, features similar styling and features, but without the digital TV featureset.
Lastly, the Glofiish X610, a cheaper device, is ideal for the more budget consious buyer more interested in having GPS navigation on their phone.
 
The Windows Mobile 6.1 devices all feature a new touch interface that aim to revolutionize the way users interact with their Glofiish phones though gestures, finger-friendly icons and 3D animations.
The devices will be on show at E-TEN's booth at the Computex show, where more specifications should be available also.
Via theUnwired.net