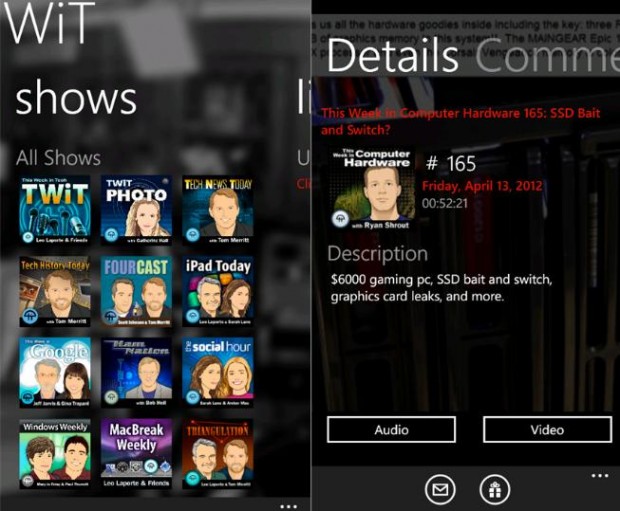 TWiT for Windows Phone an app that brings you all the TWiT.tv networks audio and video content to your Windows Phone device. You can listen or watch no.of shows such as Windows Weekly, Tech News Today, Security Now, etc, on your mobile device. With the recent v2.0 update the app features the following,
 -Remembers where you stopped within an episode and auto resume

– Listen to live audio from TWIT studios, listen as shows are recorded

-Home Live Tiles that auto update to show you the two most recent episodes

-Adds WP 7.5 OS support (Mango) support including background audio playback .

– Deep linking feature lets you pin a show to your phone tile screen and jump directly into its episode list

– Panorama now includes a "Live Calendar" that lets you view upcoming live show recordings

– Episode screen now shows episode comments
You can visit http://www.twit.tv to learn  about the network shows available on this device. The developer is already looking to fix few bugs and add some new features soon. Read about that in his blog. The app costs $2.99 with free trial available. Find it here from the marketplace.