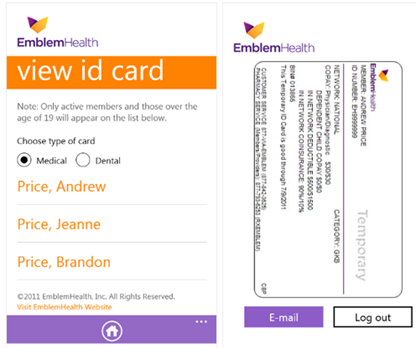 Microsoft in Health blog today blogged about the rise mobile health applications in the industry and how insurance companies like EmblemHealth are taking advantage of that. EmblemHealth provides health insurance through its companies HIP Health Plan of NY and Group Health Incorporated (GHI) to 2.9 million people in New York, New Jersey and Connecticut . EmblemHealth takes advantage of Windows Azure and SQL Azure platform to store client data and make them accessible through apps like GetMyID for Windows Phones. Here is the description of the app,
EmblemHealth Members can now view and email their ID cards using their Microsoft Phone 7 devices. Members will have the ability to register for the EmblemHealth Member Portal and access their ID cards. As an additional feature Members are now able to send a digital version of their temporary ID card directly to a doctor.
EmblemHealth Getmyid can be downloaded from marketplace here. You can read more on EmblemHealth's usage of Windows Azure and Windows Phone platform here.