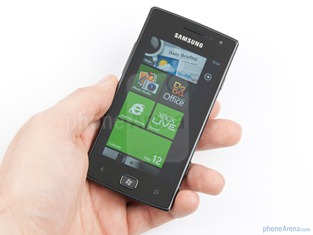 So far we have only seen vague renderings and small pictures of the Samsung Omnia W, but now PhoneArena has given the handset a rather detailed preview and published this 10 min video review of the handset.
For a mid-range handset the smartphone looks better than expected, but is still hangstrung by only 8 GB of storage and only a 3.7 inch screen.
They concluded:
Windows Phone 7.5 Mango is a great update to a  promising mobile OS, while the Samsung Omnia Wruns it flawlessly with its 1.4GHz processor, and makes it look sparkling on account of the Super AMOLED display.
We'd like to see more distinctive elements in the design apart from the brushed metal part of the battery cover, but let's not forget the handset is in the "W" category, which places it a block below the best, according to Samsung's new titling scheme.
The Samsung Omnia W has every chance to become a bestseller Windows Phone  if priced right. It is compact enough, with distinguishing features like the Super AMOLED screen, and runs the Mango update with its excellent hardware-accelerated browser like a charm, even on our prototype unit.
The Omnia W seems capable enough to meet most Android midrangers in terms of specs, and in terms of mobile OS is a better alternative than Symbian or Samsung's bada. Android has functional advantages over Windows Phone, so in the end it all comes down to personal preferences.
Read their full preview here.