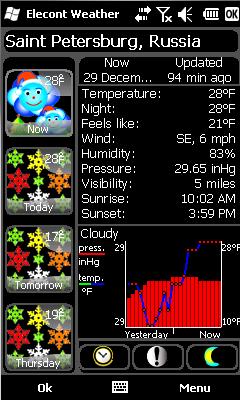 Elecont Weather 1.0.1029 has been released with a new Windows Mobile 6.5 oriented gesture interface, new themes, and new colors.
"Elecont Weather" is more than weather station for your Pocket PC or Smartphone. It produces accurate 10-day and hourly forecasts, warns you in case of high solar activity and severe weather (event of a severe thunderstorm, tornado, blizzard, hurricane, or other natural disasters). The most interesting feature is Barometer – a diagram showing the pressure changes during the past 24 hours. Now you always know the cause of headache if it is linked with changes in the air pressure. When Barometer detects pressure changes then it signals with a red color. "Elecont Weather" displays 10-day forecast with text descriptions separately for day and night time. You may find a lot of useful of weather parameters: "feels like" temperatures, chance of precipitation, humidity, visibility and much more. "Elecont Weather" has a global coverage (more than 51,000 locations). The data is provided by "WSI Corp." (the world's leading provider of weather-driven business solutions).
You may find more and download "Elecont Weather" from our software store and receive the 30% discount.