Ozone depletion as well as seasonal weather variations cause different amounts of UV radiations to reach Earth at any given time. New Elecont Weather with Barometer and Solar Alert reports current outdoor Solar Activity and predicts UV Index for the next 48 hours which provides important information to help you plan outdoor activities in ways that prevent overexposure to the sun. Elecont Weather displays the alert in case if Solar Activity is too high – it may be very important for people with sensitive skin. UV Index and UV Alert is available for the more than 51,000 locations all over the world.
During the August receive 30% off on new Elecont Weather ($9,95)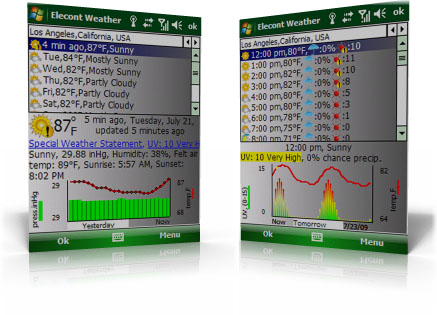 Try Elecont Weather with 3-day period free for use: CAB file
Elecont Weather is the most informative weather software for Windows Mobile Pocket PC and Smartphone
Key features:
· Full 10 day forecast for day and night, current temp, air pressure, ultraviolet index, humidity and wind info
· The most precise hour by hour Weather forecast for 48 hours
· Global coverage – more than 51,000+ locations
·Current weather conditions
·Barometer with Alert for meteo-dependent people
·Last 24 hour trends for Pressure and Temperature
·UV Index and UV Alert (Worldwide)
·Severe weather alerts (US only)
·Full text weather descriptions
·Skin support with animated HQ-icons
·Sliding Panel Weather
·Free full-functional 3-day trial version. Free updates.
and much more…
Elecont Weather localized to 10 languages including English, French, Italiano, German, Spanish, Portuguese, Russian, Chinese, Japanese and Dutch.