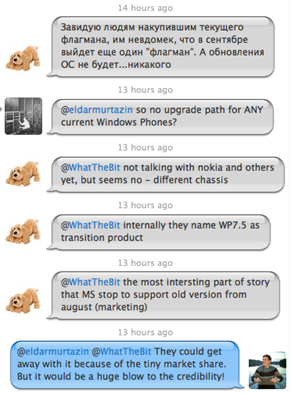 To the blogosphere we have one request – do not base a whole rumour on only something Eldar says.  He has a documented axe to grind with Nokia and is not an unbiased source.
He was most recently wrong about the sale of Nokia, about the number of Lumia's shipped and about whether Windows Phone 7 apps will run on Windows Phone 8, and I am not even keeping count.
The most recent rumour, repeated by IntoMobile, is that Windows Phone 7 phones will not be upgradable to Windows Phone 8, and the reason why this will not matter to any degree is because the installed base of Windows Phone 7 users is very small.
He tweeted:
I envy people bought the current leader, they do not realize that in September, will have a "flagship". And the OS upgrade will not be any …
We are not going to claim insider information to the contrary, but logic is a simple starting point
1) By Q4 2012 there will more more than 15-20 million Windows Phone 7 users.  While this is a small percentage of the smartphone market, it is a considerable number of people to p*ss off while at the same time trying to convince 10 million more to buy your new phones.
2) Microsoft will continue to sell single core mid-range and cheaper Windows Phones, meaning there should not be any reason why Windows Phone 8 will not run on Windows Phone 7 hardware.  The alternative is two code bases for cheap and expensive handsets, which negates the whole reason for the kernel transplant to start with.
3) The rumour is based on something Eldar has said, and he has already been shown to be wrong about Windows Phone 8 mere days ago.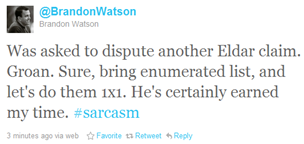 In summary, hopefully Microsoft will deny this rumour in public, but even if they do not, Eldar has already used up all his credibility, at least with me, and I would personally have to see proof before I believe a word he says.
Update: Brandon has tweeted:
Was asked to dispute another Eldar claim. Groan. Sure, bring enumerated list, and let's do them 1×1. He's certainly earned my time. #sarcasm
which I personally take as a denial.  Chalk another one up in the clueless department for Eldar.
Thanks Vinodh for the tip.