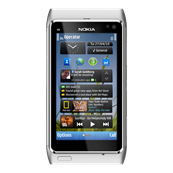 Perennial Nokia leaker Eldar Murtazin claims to have had some hands-on time with a Nokia Windows Phone 7 prototype, and has posted some additional information about the company's road map.
He claims that 4 models are currently in development, and due to the need for speed in many cases the phones will bear a close resemblance to the Symbian devices they replace.
The first set of devices will be very similar to the current generation of Windows Phone 7 devices, and the second wave will be so-called chassis 2 devices with new form factors, including low-end processors and QWERTY devices with landscape touch screens.
He notes the first devices will have 8 megapixel cameras and a 12 megapixel N8 variant will also be coming to Windows Phone 7.
He also said that Nokia's plans are changing week on week, but consideration is being given to make the most powerful Windows Phone as a selling point, with dual processors and powerful GPUs.
Lastly, they are also looking at creating a business-focussed service, again as a selling point for their handsets.
Read a lot more about Eldar's insider view at his blog here.