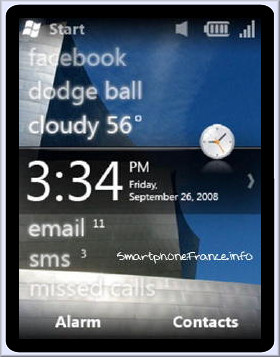 We have just seen Gartner's Q4 2008 numbers, and Windows Mobile did pretty well. Many, even Windows Mobile fans, think 2009 will be different, with the iPhone surging back and Android rising from the bottom.
Here is why that is wrong, and Windows Mobile will meet is 22 million 2009 target.
1) Aggressive action by new large licensees like LG, who pledged 50 new WM phones over the next 3 years.
Windows Mobile's strength has always been its licensees, and with 4 out of the big 5 using the OS in some capacity, and like Samsung having pretty good returns on the investment we can be assured the OS will get good support.  None of the big mobile phone companies want to have the market eaten by RIM and Apple.
2) Attack on the low end by netbook king Acer (remember $50 phones, free on contract?)
Another one of Windows Mobile's strengths is its adaptability, from very high end to especially  low end, low cost devices. Even Google Android devices appear to demand a minimum of HVGA capacitive screens, courtesy of Google. With the global recession devices that address the low end will be increasingly important, and off all the mobile OS's (except possibly Symbian) none will go as low as Windows Mobile.
3) Increasing skill by WM licensees like HTC, even on 6.1
Windows Mobile keeps getting better, even without the OS being upgraded by Microsoft. TouchFlo3D 2 brings us many of the improvements of Windows Mobile 6.5 well before Windows Mobile will be available. This does not happen in isolation, and involves a lot of help by Microsoft, who share this with other Windows Mobile licensees.
4) A range of new, very attractive devices like the new Touch Diamond 2 and Touch Pro 2.
One of the main reasons Windows Mobile will do well in 2009 is the great devices set to be released this year, by the likes of HTC, Gigabyte and Toshiba.
5) Slacking competition
RIM's devices are getting boring, with only one main (pretty boring) form factor,  Apple's iPhone form factor is getting very stale, and due to the size of their 3rd party catalogue they are trapped in it, and Android who has NOTHING of note coming out very soon.
WM 6.5 will in addition bring a much more attractive base UI, which will make it very easy for any company to enter the smartphone market, and will feature an app store, my phone web integration and Zune software.  It will be a very competitive OS, no matter what the naysayers say.