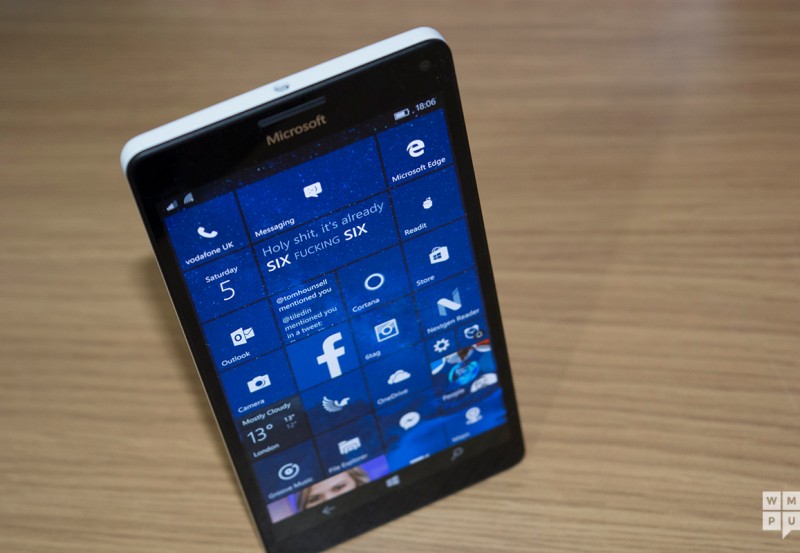 There has been a lot of negativity around Microsoft's new generation of flagship handsets recently, but I wanted to place on record that I actually like my new Lumia 950 XL, and why I think if you got one you would like it too.
So, in listicle format, here are the reasons I actually enjoy my £440 investment.
It's the first windows phone which can stand shoulder to shoulder with other smartphones (including Android ones) in terms of specs. From the latest Snapdragon processor, QHD screen, massive screen size, large battery, thin design, high resolution and great quality camera, the device has it all. For once we have a smartphone without any compromises – we have 32 GB of storage plus a microSD card. Despite having a large battery you can actually slip it into any pocket. We have the elusive camera button. The battery is removable! It's as if Microsoft looked at the wish list of every Windows Phone fan and made us the ultimate device, and I for one appreciate that.
It runs Windows 10 Mobile really well.  My handset does not stutter, and if the odd app does crash (like the early versions of the mail app) they restart in a jiffy. Sure, Windows 10 Mobile itself needs a lot of polish, but there is no better handset to experience that process of improvement on.
The handset has unique features not seen anywhere else, such as Continuum and Windows Hello Iris scanning. If you buy a high-end handset to impress your friends, well, there's your chance (btw, no-one I showed the phone to have complained of the design).
Windows 10 Mobile has brought some great new features, such as voice typing, actionable notifications, a flash light in the action centre, the ability to easily side-load apps, much greater access to the hardware and a lot more. Sure, there is the regular frustration of Microsoft removing features which I was used to on WP8.1, but on balance we have received more features back in turn.
My phone now finally connects with my PC. This is pretty nascent at present (e.g. missed calls in the Windows PC action centre) but after 5 years it's the first Windows Phone to have this feature, and I hope for a lot more.
The apps I care about seems to be coming e.g. Slack is here and has been really useful in working with out team, and Universal apps such as Baconit means my phone is now often as capable as my PC, and apps are improving in lock step, which is great.
I love learning about a new OS, something a long time Windows Phone user does not often get to experience.  For me Windows 10 Mobile and the Lumia 950 XL is a process of discovery, finding new features and capabilities, and finding out how to optimise my battery and how to get Windows Hello to work reliably.  While there is some element of frustration in learning a new device and OS, that's part of every learning process, and is certainly much less boring that upgrading from one WP8.1 handset to another.
So while a number of my colleagues have returned their new flagships, I have not run into any critical issues with my handset, and I can easily deal with the slight hiccups in return for the enjoyment I otherwise receive using the device. While I look forward to the Surface Phone and will almost certainly buy one when it eventually arrives, I suspect the jump from my already super-high end Lumia 950 XL to that handset will be rather small, vs from the Lumia 930 to the Lumia 950 XL, which is a whole new experience.
Sure, I could have spent my money on an iPhone, but then what would I have besides just another iPhone, vs owning a device which, without any need for exaggeration, can rightly call itself a Windows phone?
Do any of our readers share my satisfaction with their new flagship? Let us know below.