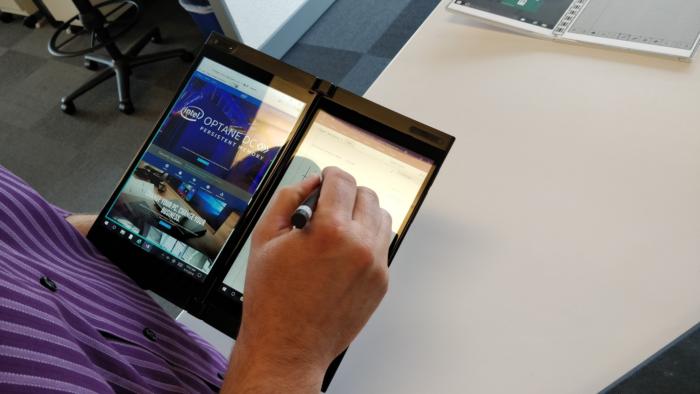 We first heard about the Microsoft Centaurus project in December last year, and Microsoft is believed to have been working on the dual-screened device for around 2 years now. It has been about a decade now since Microsoft has started building premium convertible devices and the Surface team at Microsoft is known for its commitment to perfection.
It all started with the first Surface that made use of a kickstand and a type of cover which was aimed toward replacing a user's laptop with a portable tablet. The two most famous unannounced devices that Microsoft is working on right now internally are the Andromeda and Centaurus projects. However, Microsoft never confirmed or denied the existence of these devices. All the information we have is based on the leaks that we get from various credible sources.
Andromeda is the foldable, portable and pocketable device focused on mobility whereas, Centaurus is based on dual touch screen panels. Centaurus does not have a foldable OLED as Andromeda does and is a laptop rather than a pocketable device. This is based on one of the reference design prototypes that Intel has been showing off on various occasions. The prototype provides a basis for other OEMs to build their future devices on, with Microsoft doing the operating system work to support it.
Recently, we reported that the Devices group at Microsoft held an all hands on session for a future Surface device and even showed off a new promo video for the same. This session was exclusive to some Microsoft employees only. Later, it was leaked to be Centaurus. This new device is based on the concept of Courier that Microsoft scrapped off a few years ago. This device is expected to be announced very soon and we can't keep help but to try to put forward our own wish list for some of the features of this new class of device.
Design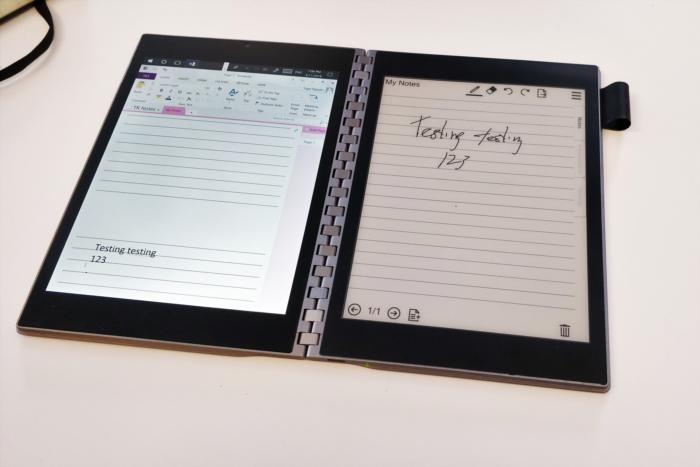 Microsoft is very good with hinges for some time now. They have great hinge based mechanisms in almost all of their Surface computers that work in various different ways than each other but are all highly functional and durable. Connecting these two panels, we expect Microsoft to be joining both the panels with a hinge that resembles the one found in Surface Book devices. One of the downsides of the muscle wire mechanism of the Surface Book device is that you can't put the keyboard and the display at an angle of 180 degrees. But, if Microsoft has succeeded in miniaturizing the hinge and at the same time breaking the 180 degrees limitation, it will be a great design for the device.
Additionally, they could allow undocking of the displays just in case a user does not want a bulky device when a single screen is being used.
Software
Even though there were less Windows 10 based announcements at Microsoft's Build 2019, that does not mean that they are not building anything great in the background. Microsoft is rumoured to be building a new modern operating system based on Windows 10. It has been codenamed Windows Core. Windows Core is not an operating system. Rather, it is a cluster of multiple operating systems. It can run on standard laptops, convertibles, Andromeda like devices as well as devices based on Centaurus.
One of the flavours of these operating systems is Windows Lite. This flavour can primarily run PWAs or Progressive Web Apps and UWP or Universal Windows Platform apps. However, the current internal version of Windows Lite does not support running Win32 applications. There are chances that Microsoft will be adding support for them soon. Even if they don't they can make it a competitor to Google's Chromebook devices. But the heavy reliance of PWAs on Microsoft Edge might be one of the downsides of the operating system and Microsoft has two things to do at uttermost priority then. First, they need to add a good quantity of quality PWA and UWP applications to their Microsoft Store. And second, to support PWA, they need to integrate Chromium engine (based on the new Microsoft Edge) to the operating system so that the PWAs work flawlessly.
In terms of the user interface however, it would seem a waste of a book-type device not to have a pen-first based user interface and interaction model. Over the years Microsoft has shown many innovative ways pen and touch can work collaboratively to make users more efficient, and we hope these ideas find a test bed in Project Centaurus.
Specifications
Just like other consumer and business-focused Surface devices, I would recommend that Microsoft adds a combination of specifications that targets a larger audience. It is true that Microsoft builds premium devices but with the introduction of the Surface Go, they have been targeting developing markets and people with a lower budget too. However, on the top end model, they can add like an Intel Core i5+ series processor but that would be useful if the operating system is capable of running Win32 applications. PWA and UWP applications do not need much high standard specifications and can work fine with slightly weaker hardware too. To compete with Google's Chromebooks, Microsoft has to build a more affordable device otherwise it will be limited to the enterprise and business users only.
Modes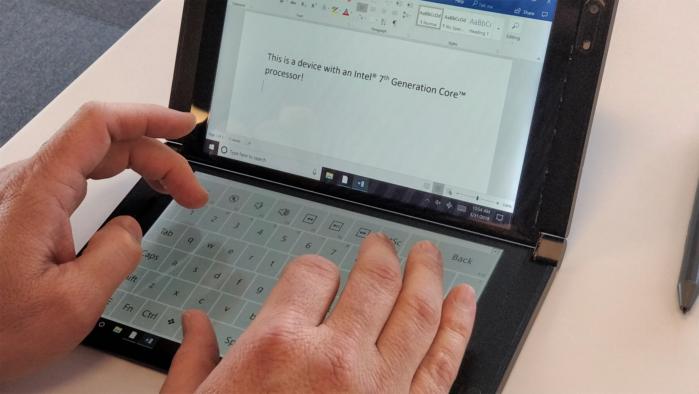 The dual panel design beings in the scope for several scenarios that this device can be useful for. We could call them the following:
Laptop mode.
Tablet mode.
Tent mode.
Journal mode.
Collaboration mode.
The laptop mode would allow one panel to act as a primary display and the other one will act as keyboard and trackpad. If the design allows the undocking of one of the panels, it should activate the tablet mode. Also, folding of the device in such a way that only one panel is facing the user should activate the tablet mode.
In the tent mode, the displays would face opposite directions and in the journal mode, the device will be laid flat on a surface, facing upwards. In tent mode two users physically present together can collaborate on each screen. This would enhance their teamwork and productivity.
In Journal mode the device should present a pen and touch-first based user interaction model designed to promote creativity and the free flow of thoughts and ideas.
What do you think of our wish list?