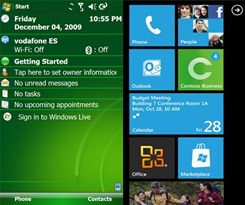 The latest Comscore numbers are being widely misinterpreted around the internet as Windows Phone losing market share.
Long time readers will of course know that Comscore bundles both Windows Phone and Windows Mobile users together, and what it really reflects is the rapid movement of Windows Mobile installed base to iOS and Android and of course not Windows Phone.
It also of course reflects the slow uptake of Windows Phone in the USA, which would otherwise have masked the exodus.
The truth of course that there is nothing in common between Windows Mobile and Windows Phone and Microsoft did absolutely nothing to help the migration from Windows Mobile to Windows Phone. In fact it as easy as pie to move your text messages from Windows Mobile to Android, but impossible to do it to Windows Phone.
The opportunity to bootstrap Windows Phone by converting Windows Mobile users is now long past, with maybe only a few hundred thousand users left in the USA.
Window Phone has however had another platform break – from Windows Phone 7 to Windows Phone 8, and Microsoft it appears has not learned from their mistakes. When Windows Phone 7 contracts ends, users are presented with the opportunity to start over on either a new Windows Phone 8 handset with their same apps, but no other app settings, text messages, game progress and numerous other features which would have added to the stickiness of the platform. Besides the cost of the apps, it would be as easy to move to iOS and Android.
Our suggestion to Microsoft – assign a few interns to making it easy for Windows Phone users to upgrade to your next generation of handsets. Help them move their SMS messages, IE favourites, list of installed apps, email accounts and app settings to a new phone, and you may get more loyalty in moving from Windows Phone 7 to Windows Phone 8 than you had in moving from Windows Mobile to Windows Phone 7.
Do our readers agree? Let us know below.