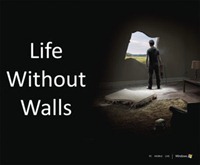 There is much talk of ecosystem these days, especially with reference to mobile devices.  Microsoft ecosystem traditionally centred around the PC, which tends to confine their remit to the office and home office, at least in terms of public perception. However intense competition arising from the consumer market has forced the company to try and expand aggressively into other areas.
The question therefore arises – in 2010, has Microsoft established a large and diverse enough system of products and services to allow one to live the Microsoft Life, and what would one be missing out of if one did so.
Lets run through a typical day and see what Microsoft can provide.
Supposed you bought into the whole Microsoft ecosystem, presumably you have a ZuneHD, so the iHome ZN90 Clock radio and speaker system for the Zune should be able to wake you up pretty easily (look at the size of those speakers).
Unfortunately however these speakers will not be compatible with the upcoming Windows Phone 7 phones.  While Microsoft has standardized on MicroUSB, as far as we know there has not yet been announced an interface for accessories and expansion, which means such niches such as clock radios will not be filled, at least initially.
We suggest this is an issue Microsoft should address as a matter of priority, as compatibility with accessories is one of the many reasons people choose iPhone/iPod over alternate media players.  As Microsoft is specifying a rigid chassis in any case, this would allow wide compatibility and be an advantage to Microsoft would have over less controlled operating systems like Android.
While we don't think Microsoft or anyone else has a solution for making breakfast or brushing your teeth, Apple does of course have the iPad to bring you your morning newspaper.  An accessory device between a PC and a phone, to use in a non-desktop setting and for consuming media rather than creating is clearly missing from Microsoft's line-up.  Microsoft has said they are committed to addressing this issue, but their solution, based upon Windows 7, does not address market need very well, due to complexity of use and size and battery life issues.
Once you are in the car, things do look up a bit.  Microsoft has an excellent and in fact much lauded system, in the form of Microsoft Automotive, or better known as Ford Sync in USA and branded differently by other car manufacturers in other countries.  The system, which relies on voice recognition, provides compatibility with iPhone, iPod and of course Zune, but at present we do not know if it will be compatible with Windows Phone 7.  It does however support MTP, so there is some hope.
Of course with Zune support on Windows Phone 7 users will be able to stream music while driving, and be able to listen to podcasts they synched wirelessly at home, both native features of the operating system.
Alternatively for those who do not want to buy a whole new car to compatible with their phone, what does Windows Phone 7 offer in the car?  While Bing in Windows Mobile offers spoken turn by turn directions, this has not been demonstrated on Windows Phone 7. With GPS navigation a rather big deal on Android, this is another area which Microsoft need to address soon.
Of course in the office Microsoft's ecosystem is deep and wide, with server solutions, desktop and laptop offerings, warehouse support and others we need not dwell on. Having said that, Microsoft is still second when it comes to business messaging, with Blackberry ruling the roost. However we believe if Windows phone 7 handsets have greater user acceptability, its better enterprise support compared to iPhone and Android (e.g Sharepoint support) should mean this is an area where Microsoft should be able to make great inroads relatively rapidly.
Come lunch time, and Bing built into Windows Phone 7 will make it easy to find local eateries, provide Yelp ratings for the dinners, and also directions to the establishment. Over lunch he can check his Hotmail, which is being pushed to his phone and of course provides full exchange support (an additional account after his work exchange server) and which allows him to keep his work and personal contacts and email separate.  He may notice a suggestion from some friends to meet up after work.
The same Bing feature will be useful for finding a place to dine out with friends.  Facebook integration with Windows Phone 7 will make it easy to update and keep updated with your friends, all from your start screen, without needing to go into apps.  At the
meetup, a Windows Phone 7 user will likely be the one taking photos and uploading them to facebook, as all Windows Phone 7 devices will come with hard camera buttons, flashes for taking pictures in low light and have no-touch uploading to social networks, unlike competing operating systems.  With facebook albums also fully integrated with the OS expect many Windows phone 7's to be passed around the group.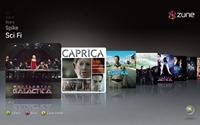 On returning home our intrepid Microsoft user actually has multiple opportunities to entertain themselves using solutions from the company, mainly centred around the Xbox 360.  This includes watching movies downloaded or streamed via the Zune service, and of course playing games. This is one area where Microsoft's ecosystem is pretty integrated, with gaming cross over between the Xbox 360 and Windows Phone 7, and media purchased via the Zune service being capable of playback on the desktop, phone and console.
A few hours later our tired protagonist is off to bed, ready to start a new Microsoft-powered day tomorrow.
As we can see, Microsoft's developing ecosystem does have enough to answer the needs of most users, but there are areas where Microsoft need to work harder on integration, and areas where Microsoft do not have any answer yet at all, such as slates and tablets. Microsoft has however done a good job drawing in other services such as Facebook, Twitter and Netflix, meaning even if one use a Microsoft solution a user is not completely dependent on Microsoft's offerings. Microsoft certainly need to become more aggressive at closing the circle and pushing its offerings into public consciousness, and also rely less on OEMs with their own agendas to fill the gaps.
Is there anything missing from our Microsoft Life? Let us know below.