With a recent update to easyTube (which we previously reviewed here), the developer added the ability to play YouTube videos remotely to your computer.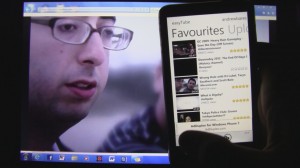 This new feature is extremely useful and works perfectly! You simpy log into your account within the app, and then visit easytube.wsoftvn.com with your computer, and log in using the same account. Then, you enable the setting within easyTube, and the next time you click a video in the app, it'll instantly start playing on your computer. This is perfect for anyone who has their computer hooked up to their TV and don't have a way to control it remotely.
easyTube also has a number of other great features, like downloading videos and playing audio from a video without actually viewing the video. However, I cannot recommend easyTube for watching videos on your phone, since it can never play videos smoothly (at least on my HD7 that's true). The developer will try to fix that problem, but for now, use a different YouTube app for viewing YouTube clips on your phone.
Nevertheless, easyTube is a must have for playing videos remotely! You can find it in the Marketplace for FREE