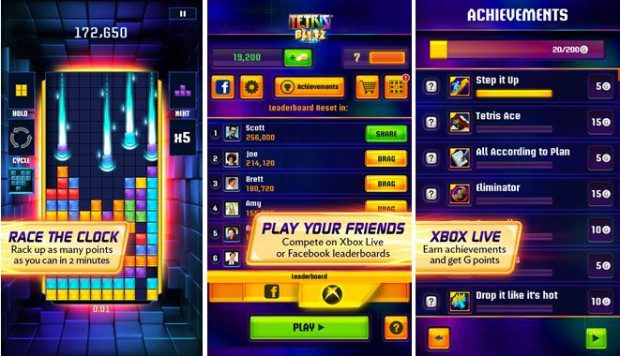 Electronic Arts has released Tetris Blitz, one of the classic and most addictive puzzle games of all time for Windows Phone devices. Tetris Blitz also features Xbox Live achievements, Facebook leaderboards for competing against friends, and more. Read full game description below.
Game Description:
Race against the clock in a two-minute Tetris® Blitz to clear lines and rack up as many points as possible before time runs out! With all-new features, stunning visuals, and innovative controls, this twist on the world-famous Tetris game is a must-have on your Windows Phone.

SHATTER HIGH SCORES
Supercharge your game and trigger point-boosting reactions with Power-ups, like Magnet, Laser, and Time Shift. With a new Power-up released every week, the strategic combinations are endless!

FEEL THE FRENZY
Experience explosive effects and earn double points when you trigger the elusive Frenzy mode. Clear lines back-to-back to stay in Frenzy and get blown away by stunning cascades that keep the points rolling in.

XBOX LIVE
Compete on the Xbox Live leaderboards and earn Xbox Live achievements.

PLAY YOUR FRIENDS
Celebrate your high score and brag as you fly past your friends on the Facebook leaderboards. Tournaments reset every week – so there's always another chance for victory.

BLITZ YOUR WAY
Take charge of your game with all-new controls like the innovative "Drag-and-Place" option that lets you tap and drag pieces with precision. You can also choose the lightning fast "One-Touch" controls or "Swipe" placement if you prefer the original controls.

FINISHERS AND DAILY BLITZ
Watch your game end in a point-boosting, mind-blowing blast of visual fun with Finishers! You can also try to clear the board with the Bonus Blitz and score rewards like Coin packs, Power-up bundles, and more.
Download it here from Windows Phone Store for