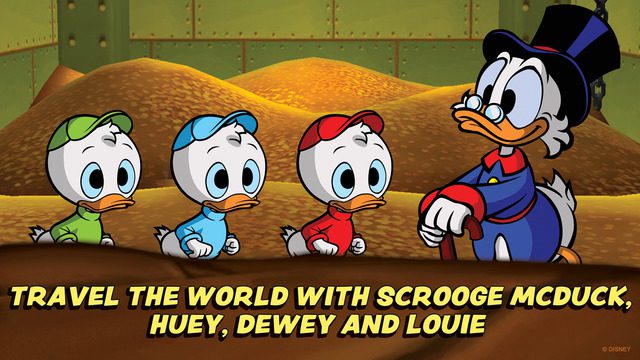 I suspect more as an attack on the wallets of nostalgic 30 year olds than to entertain a new generation of kids, Disney has brought back one of the most cherished 8-bit titles of all time with the mobile release of DuckTales: Remastered.
Join Scrooge McDuck in an epic adventure across the world to discover the five Legendary Treasures! Embark on a journey to the Himalayas, Amazon, Transylvania, African mines, and Moon using Scrooge's secret map. But watch out for the evil sorceress Magica De Spell and notorious Beagle Boys – they're on a quest to steal Scrooge's fortune and will stop at nothing. He may have to risk it all to save his nephews, Huey, Dewey and Louie, but not without epic boss fights along the way! Hold on to your top hat and play as Scrooge McDuck as you travel to the far corners of the world!
The game features:
PLAY as Scrooge McDuck in this remastering of the classic, side-scrolling platformer game
EXPLORE the Himalayas, Amazon, Transylvania, African mines, and Moon in search of the five Legendary Treasures
ATTACK enemies with Scrooge's iconic pogo jump and cane swing
BATTLE and DEFEAT villains in epic boss fights
POWER UP with invincibility and discover extra hearts to increase health
COLLECT gems to UNLOCK over 90 pieces of production art from the original TV series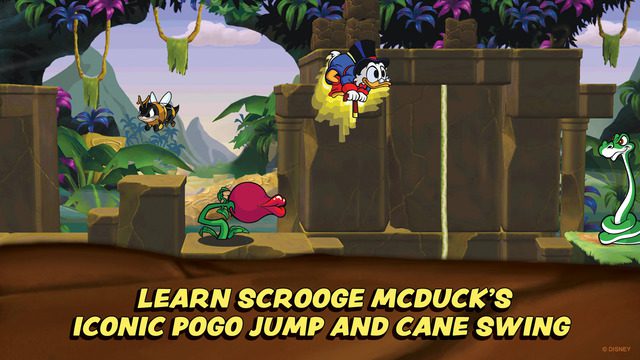 DuckTales: Remastered retains the authenticity of its 8-bit predecessor and features an expanded story with all new, improved graphics. DuckTales fans can relive the classic TV series from the 1980's, complete with the original voice-actors and exclusive production art from the show's archives.
REMASTERED HIGHLIGHTS:
Hand-drawn animated sprites and richly painted level backgrounds
Original voice talent, including Alan Young, Frank Welker, Russi Taylor and June Foray
New Easy mode for casual and younger players, and new Extreme mode for devoted fans
Digitally-enhanced soundtrack featuring modern amplified iterations of the classic melodies
Expanded storyline and character narration
At the time of writing the app is not live yet, but it will soon become available from the store here for $9.99.
See the trailer for the game below.