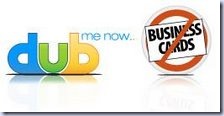 The days of beaming contacts via bluetooth and infrared are now well and truly over, due to the huge diversity of mobile operating systems, some like the iPhone with very limited functionality in this area. DubMeNow is offering a solution to this, with technology that allows you to instantly exchange (via text or email) contact information (email, phone, company, address, title, etc.) from mobile phone to mobile phone
DUB loads contact data directly into the user's mobile address book and automatically updates their address book whenever the contact's information changes, meaning contact information is always current. Seemingly intended mainly as a business tool, Dub also syncs with Salesforce, Microsoft Dynamics CRM, SugarCRM and Siebel, and is labelled as the end of business cards.
Dub has started of with wide industry support, having partnered with Microsoft, Google, Salesforce.com, RIM and LinkedIn on the technology.
A version of DUB is currently available on all smart phones, including BlackBerry, GPhone, iPhone and Windows Mobile. Any mobile phone with text messaging can also use DUB via text messaging.
Read more at DubMeNow.