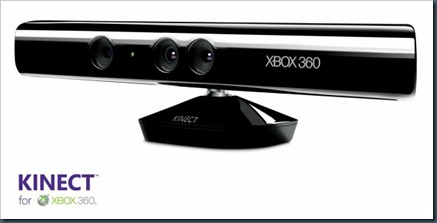 Microsoft earlier this week announced the availability of an official SDK for the Kinect controller for the PC later this spring. We have seen some great hacks for the device, but the Microsoft sanctioned SDK will hopefully bring some standardization and better framework for developing more complex and feature rich applications.
As good as the controller is now, I think it is limited when it comes to the hardware specs. This was due to the practical market requirements that the controller be affordable to the general public. The specs include the following from Engadget
Field of view is relatively limited, something we could sense when spending time with Kinect at E3. The unit sees 57 degrees of horizontal and 43 degrees of vertical, with a 27 degree physical tilt to keep you in the action.
Depth of view is similarly strict, ranging from 4 feet to 11.5 feet.
Skeletal tracking is limited to two active players at a time, as we knew, but the system can at least keep its eye on up to six people at once — like that totally optional pair of backup dancers in Dance Central.
Resolution, because we know you were wondering, is detailed as well: 320 x 240, 16-bit at 30 fps (we're guessing this is the depth camera), 640 x 480, 32-bit color at 30 fps (yeah, this is the color one), and 16-bit audio at 16 kHz.
With that in mind, a thought ran through my head, why doesn't Microsoft release a new  Kinect controller with improved specs for commercial use. This controller would be a named "Kinect HD" (for the lack of a better name) and would feature
A better camera with 1280x720p resolution thus the HD moniker
A better depth sensor 640×360? (I'm not sure how depth sensors match with the color camera)
A wider field of view especially on the horizontal level but also on the vertical level
Maybe double the depth of view to 20 feet
The pricing of this new controller would ideally be about $250-500 taking account of the beefed up hardware specs. As for the SDK, I hope that it includes the ability easily connect and manipulate multiple Kinect controllers from a single dashboard to create a 360 degree 3D map.
Some areas where I see the Kinect heavily used are in the education market for interactive learning. There are already hacks for a Sign language application and games like Body and Brain Connection are pointers of better things to come. I really like the following Little Magic Stories video by Chris O'Shea.
Little Magic Stories from Chris O'Shea on Vimeo.
One area I think would benefit most with improved hardware specs would be 3D motion capture and animation.  Currently, this requires expensive equipment and software to produce a decent product. Compare this
To this motion capture using a Kinect hack
Add all that Microsoft demonstrating the ability for Kinect to mimic facial gestures via avatar Kinect, I think the device has the potential to revolutionize the motion capture industry, and make it affordable to create movies and games requiring the technology for every budget strapped aspiring movie makers and game developers out there.
Finally, lets not forget the cool integration with Windows Phone  devices coming in the future. This is just the beginning! So what do you guys think of a higher priced Kinect HD controller for the PC with better hardware specs?