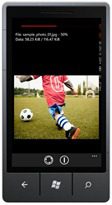 Nokia Lumia owners will soon receive the ability to send files and contacts via Bluetooth, but what about all the other Windows Phone owners.
Well, if you have an unlocked Windows Phone you can have those abilities right away, with BlueManager, previously BluePhoto, by Navisluni on XDA-Dev.
His Home Brew app uses  Bluetooth OBEX to send Photos from the Photo Hub, MP3's from the Music Hub and also Contacts, all over Bluetooth.
If you are able to install Homebrew software, stop being envious of Nokia owners and read more at XDA-Developers here.