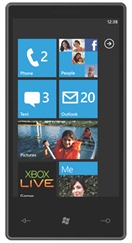 By now, everyone who has seen the Apple's Facetime commercials  either comes away impressed  or say its nothing new since other Smartphones before it have had front facing cameras for years. The big difference here is that the iPhone's solution is native to the OS and seamlessly integrates with the dialer requiring no further action on the end user to install a third party app like Fring or Skype. I have read enough stories comparing the HTC Evo's Fring app to Facetime and the latter wins hands down.
Last month, I wrote a post  that detailed the video calling advantage WP7 would have in conjunction with Windows Live Messenger and  Video Kinect. It would be the best solution in the market but there is one little problem. The current minimum specs for WP7 as far as I know do not include a front facing camera. It is up to the OEMS which think it's a big mistake. Paul Thurrot puts it best when he says…
I think the key to competing with the iPhones of the world will hinge in part on a constant updating of these specifications. In fact, the release of the iPhone 4 this year, with its amazingly high resolution screen and gyroscope, both of which impressively outclass Microsoft's minimum specs for Windows Phone–speaks to this need.
the Windows Phone specs need to evolve to meet competitive threats. Phone makers should need to conform to the spec that is current when their device ships.
Now I'm not saying that WP7 has to have a gyroscope or a retina display, but I think that a front facing camera is must. They may not have the software to use it ready at launch, but  they can always add it with an update. With video calling set to explode in the near future, it gives a better value to the consumer  so that they are not forced to go out and buy a new device just to use the feature considering the fact that most phone contracts usually run for two years. Windows phone 7 is still about three months out, therefore, I think there is still time for MS and its partners to have a front facing camera available on all phones.  I have my fingers crossed.