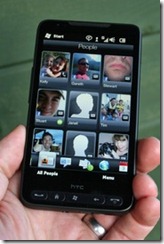 Today is HTC HD2 day, and the first wave of deliveries have started.
My HTC HD2 is unfortunately waiting in some Citylink depot at the moment, which is making me pretty antsy, but I am sure many of our other readers more wisely opted for delivery at work.
If you are one of these fortunate readers  let us know your first impressions of Windows Mobile's current most bleeding edge device in the comments below.
If we like it enough we may even put it on the front page 🙂