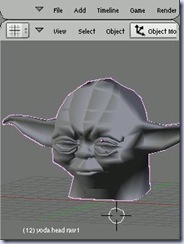 If you had to think of unusual uses for Windows Mobile smartphones 3D modelling would probably not be on your list, as no-one would think anyone would even attempt this on a smartphone.
If something is possible however some-one will do it, and so it has been in the case of BlenderPocket.
BlenderPocket is a port of the famous Open Source 3D creation solution "Blender" dedicated for mobile devices having a touch screen, small amount of memory (RAM), a low speed processor (with no floating point unit) and no graphic unit (no hardware acceleration).
BlenderPocket has all essential features of Blender including Modeling, Texturing, UV Unwrapping, Animation, Rigging, Nodes, Lightning and Rendering. Python support, Sounds, Physics and Realtime 3D/Game Creation where excluded. Initially designed for Windows Mobile 2003, the software has recently been updated.
New features in the latest version
BlenderPocket was updated from the 2.42 to the 2.48a version, what means more than 2.5 years of Blender development! The Blender team added thousands of new features described in the Release Logs. All the credits is for them! Respect…

Concerning BlenderPocket specific improvements, you can now assign any Hotkeys to your Hardware Buttons without limitation. Additionally, better dynamic memory allocations and many other improvements were implemented: BlenderPocket should be quicker and a special care was given to stability. Python is not supported anymore (for size reasons) but the old 2.42 version with python (experimental) is available on the download section.

It is still a work in progress as more work is needed to run the sculpt mode (not working today). And I have still in mind to make BlenderPocket work with the Open Source Vincent OpenGL ES library what will ease any migration on other devices
See a video of the application in action below.
 
BlenderPocket Demonstration from Salvatore Russo on Vimeo.
See the BlenderPocket Website here for more details.