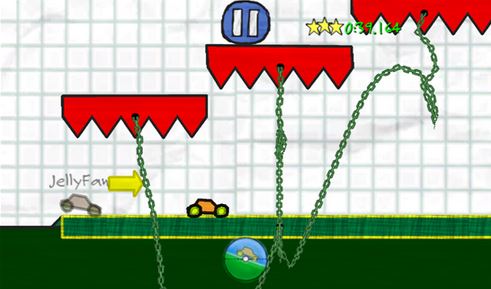 Along with the release of Disney Solitaire, Disney has also released JellyCar 3 game in the Windows Phone Store. Jelly Car 3 was released in February 2011 on the Apple App Store and it received great response from critics and gamers. JellyCar3 is a driving/platforming game in which you will be driving a squishy car through squishy worlds, trying to reach the exit.
Features:
NEW LEVELS WITH SECRET EXITS
JellyCar 3 includes 50 themed levels designed to maximize your squishy gameplay. With platforms and objects that move, rotate, and trigger special effects, each level is a new adventure! Race to the stop sign, and keep an eye out for secret exits!

NEW CAR CUSTOMIZATION
Choose your car then create a customized color-styled JellyCar. Add detail down to the hubcaps! You can even customize the sound of your JellyCar!

NEW GHOST RACING
Chase your personal best times with the ghost car feature.

NEW RECORD FEATURE
Save replays and relive your best times.

SQUISHY GOODNESS
Soar over obstacles and reach goals with the Balloon ability, climb walls with Sticky Tires, tap your car to make it grow, and play along with great music and sound effects. Everything that makes JellyCar awesome is here and more, so test-drive JellyCar 3 today!
Download it here from Windows Phone Store for $1.99.