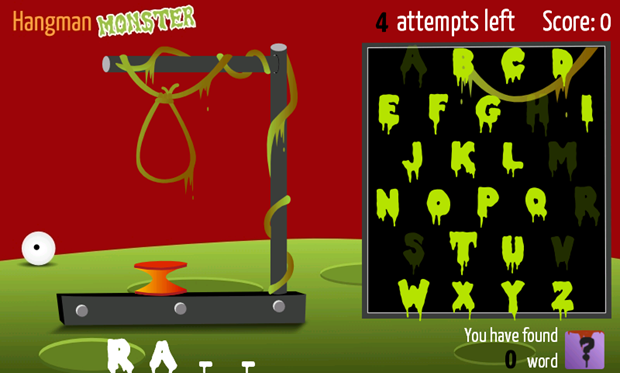 Hangman : Monster (With Worldwide leaderboard scores and thousands of players!) is a fun hangman game available on your Windows Phone! Don't hang the monster or you will lose the game… Ok you may hang him to see what it looks like too… 🙂 Anyway, this hangman is a lot of fun to play with and has a long game lifetime, plus three levels of difficulties!
The game includes :
All level of difficulties included with the app for FREE
3 levels of difficulties : Easy, Medium, Difficult
Possibility to beat your scores : your score equals the total number of words you found successively without being hanged at all…
More than 200 different English words per level of difficulty!
A fun game design.
Worldwide player leaderboard! Beat other players and have the highest hangman score ever. Take the challenge now and show all players you are the best at discovering words.
Easy to play, fun to play… Give it a try and enjoy !
You may also download, from the same collection :
Hangman : Pirate skeleton
Hangman : Business man (Yes you can hang him too!)
Hangman : Cowboy
Hangman Monster is free and can be found in Marketplace here.
Ahead Solutions is one of the leading software company on Windows Phone and an innovative company that develops many games & apps for Windows Phone including : GeoQuizz, MyThings (Top to do list app – www.mythingswp7.com), AlcooloTest (Alcohol Tester app – http://www.mythingswp7.com), MyQuiz games, MyMemory games and many to come. Follow us on twitter : http://twitter.com/aheadsolutions / For any issue feel free to contact us at : support@ahead-solutions.com