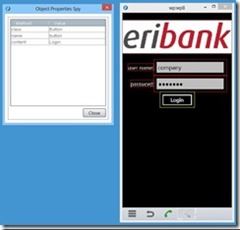 Experitest SeeTest now allows you to test your Windows Phone 8 applications running on real Windows Phone 8 devices. Microsoft developer blog listed the following benefits of using this tool. This has a Plugin to QTP, JUnit, Perl Python, C#  that enables to run the tests from any of these testing frameworks.
As far as I know the first testing tool in the world to offer full Windows Phone 8.  It is important to note this support is not a brittle OCR based system but a full native implementation.
Seamless integration into with the Microsoft development platform including Visual Studio, Team Foundation Server and Microsoft Test Manager
The same benefits SeeTest has always offered their customers –and areas that set them apart in this field:

Support for real devices (the devices should be developer enabled) and emulators
Devices need not be altered in any way(i.e. jailbroken)
Recorder enables testers to simply and quickly create theirs tests
Objects are identified by native ID or by web properties (in web/hybrid apps)
Object Spy provides the ability to inspect the objects' Native or Web properties
Integration into the full application testing cycle inc. installing the application, launch it and uninstalling it
View results inc. screenshots with UI elements are highlighted.
Download free trial now. You can find online manual here.
via: MSDN