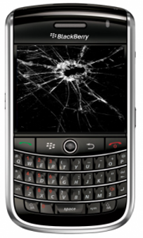 Bloomberg reports on more developers fleeing the Blackberry App store and platform itself.
Purple Forge Corp., which makes programs for political campaigns and polling, will stop building BlackBerry versions of its apps unless customers request it.
"As soon as RIM brought in a touchscreen and mixed it with a thumbwheel, a keyboard and shortcut keys, it made it really difficult and expensive to develop across devices," said Purple Forge CEO Brian Hurley. "What Apple scored big on is having a touch screen and a button and that's it."
RIM's devices have different screens sizes, varied operating systems and several ways to navigate, from a physical keyboard to touchscreen to a scroll button.
Mobile Roadie LLC, which makes apps for fans of the Miami Dolphins and country singer Taylor Swift, have decided to stop making products for RIM. In an interview, CEO Michael Schneider said users would blame them for inconveniences like distorted images on different-sized screens.
"At the end of the day, I even felt like developing for BlackBerry could be hurting our reputation," Schneider said.
Fragmentation appears to be the biggest issue, a problem usually synonymous with Android, but in fact most apt for Blackberry also.
Purple Forge Hurley said "In deploying Apple applications, there are very few surprises,"  "In Android, there are increasingly more surprises. But in BlackBerry, there are immediately lots of gotchas across the board."
The decision to no longer develop for Blackberry may however go largely unnoticed by Blackberry users, and not because of competitors. Blackberry users simply do not use apps in any case.
"When we put an application in the field, there was a 20- to-1 difference between Apple and BlackBerry downloads," said Purple Forge's Hurley.
Mobile Roadie's CEO Michael Schneider concurs.
"We were putting a ton of resources into something users were not engaging in," he said.
Schneider said less than 2 percent of BlackBerry users interacted with Mobile Roadie's applications, compared with more than 50 percent of iPhone and Android users.
Windows Phone 7 is currently making a play for the 3rd big mobile ecosystem, and provides choice while fighting fragmentation with strict guidelines for OEMs and will benefit from developers having more attention to lavish on the new platform in favour of Blackberry OS, especially when the volume of Windows Phone 7 handsets hopefully increase next year.
Read more at Bloomberg here.