Heart to Band is a way to drop all your heart beat monitors to be replaced…. By your Microsoft Band for sure!
It is an universal application (for smartphones and PCs/tablets) that allows you to monitor your heartbeat and calories from your Microsoft Band.
The application can record your location when you exercise.
You can customize how to stop the recording by:
Stop by clicking on stop
Stop if you reached a number of spent calories
Stop if you spend the preset time
You can start/ stop the measurement from the band by installing the application's tile and also transfer the application's theme to your Band!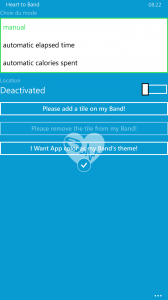 All the measurements are recorded on the application and can be reviewed later.
Heart to band is free with an in app purchase to remove ads. You can download it from here: