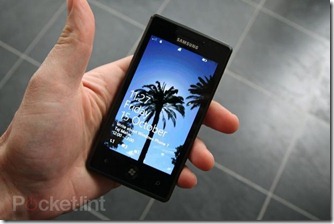 Pocketlint have published their lengthy review of the Windows Phone 7 OS and came to this conclusion below:
First Impressions

From what we've seen of Microsoft's new operating system it is clear that Windows Phone 7 is an impressive consumer mobile operating system, with some nice touches and flashes of inspiration. We like the refreshing departure from sometimes busy interfaces that you'll find elsewhere: Microsoft haven't been scared to use white space and with screen sizes that give you plenty of space the mobile experience on Windows Phone 7 is great.

The use of moving backgrounds and text that rolls over the page draws you into what feels like a bigger picture. The edges of the screen don't constrain the display, you simply swipe across without feeling like you have made a departure from where you were before.

In our tests Windows Phone 7 has been stable too. We've had crashes, sure, but always around the same events on beta software and the occasional glitch on the device that we knew wasn't final hardware. Microsoft's decision to restrict what manufacturers can do with a Windows Phone might have come as a surprise, but might be the best decision yet: like the Apple and the iPhone, Microsoft can more or less guarantee the experience you are going to get.

Does Windows Phone 7 offer you anything you can't get elsewhere? Not really. The inclusion of Zune makes it an interesting offering in the face of iTunes, and the gaming offering, although yet to really come to fruition, looks promising.

Is Windows Phone 7 currently competitive? Almost. There are some key apps missing from the experience. We're happy with the core ingredients, but we'd like to see video sorted with a matter of urgency. YouTube may be frivolous and a great time waster, but when you're standing in front of a hotel mirror, desperately trying to remember how to tie a bow tie, it can be a real godsend. We've heard mention of a Twitter application already, but we're yet to see the level of integration that it offers – will you be able to update from the Me page to any service you want, or will you always have to open the app?

A few questions still remain which we hope will be resolved when Windows Phone 7 launches later in the week – like Xbox Live and Marketplace – but with Windows Phone 7, Microsoft seems to be back on the right track. But the deciding factor may well lie in the hands of developers and how quickly the app offering gets up and running and only time will tell.

That said, those who are forced to use a Windows Phone because of workplace demands, should be very happy indeed.
So see how they came to this conclusion read their full review here.
Read our own review of Windows Phone 7 here.
Thanks MobilePaddy for the tip.