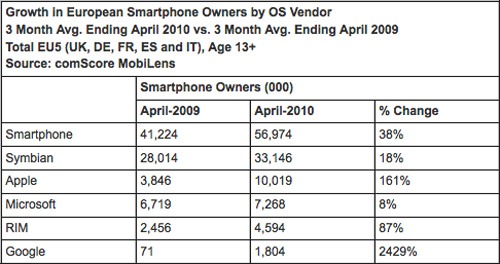 Comscore has published some European numbers showing the number of devices in the hands of consumers in Q1 2010.  The numbers show that around 56 million smartphones are in use in the 5 core countries (UK, Germany, France, Spain and Italy), with 7.2 million of those Windows Mobile smartphones (12.7%) being Windows Mobile smartphones.  The installed base for Windows Mobile smartphones increased by around half a million compared to the same period last year, which translates into about 8% growth year on year.
Of course the growth is nothing compared to the other OS's in the market, but given that Windows Mobile is set to be superseded with an incompatible version in less than 6 months any growth is still significant.
Read more at Comscore here.