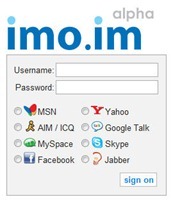 We are still waiting for a multi-protocol Skype client for Windows phone 7 to come along, and I suspect one from Skype is not on the way anytime soon.
Mobile Industry Review has a work-around for those who are desperate to stay in contact with their Skype contacts.
imo.im is a web-based multi-protocol chat client which actually works pretty well in the Windows phone 7 browser.   The service is free, and if Windows Phone 7 supported flash it would also support VOIP and video.
The service also supports Yahoo, MSN, AIM and ICQ, and works without the need to create an account.
Of course this web-based approach is far from perfect, mainly due to formatting issues, but with nothing else available, it may be godsend for some.
Find imo.im here.