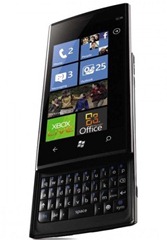 Analysts have questioned Dell's move to hop on the Windows Phone 7 train with the Dell Venue pro.
Michael Rathburn, senior technical specialist at Applied Systems Associates, Inc, a Murrysville, Pennsylvania-based solution provider, who would prefer an Android device, said "It looks like a nice device,but I don't think its epically groundbreaking,"
"Its specs are similar to the Droid X's, except it happens to run Windows Phone 7," Rathburn said. "if there's a market out there for Windows Phone 7 then I'm sure this phone will do well, but I don't know that there is one. "
Rick Russell, vice president of sales and marketing at Seattle, Wa.-based solution provider Digital Forest thinks the questions that remain about the Windows Phone 7 operating system could be a problem for Dell.
"It's probably a risk for Dell to go with the Windows Phone 7 platform, or at least they would perceive it as a risk," Russell said. "Dell doesn't seem to be big risk-takers as far as new technologies are concerned. They will be trying to get some joint momentum with Microsoft," Russell said.
"They seem to be more driven by whatever wave is buffeting them around. I would not count on them to come out with something new or interesting," Russell said."If there's something new to Dell out there, it's a very difficult for them to make a splash because their marketing is kind of spotty."
While it seems most analysts would be more excited with an Android device, they appear to forget Dell already has an Android strategy, which has played well in the blogosphere, but has not resulted in any ground breaking sales.  Dell's Business to Business focus would also play poorly with Android, which has poor enterprise adoption,  and by using Windows Phone 7 Dell has a much lower investment in software support of their devices, with Dell not only able but forced to use the stock OS.
Lastly Dell is likely to benefit from significant co-marketing support from Microsoft, something Dell is unlikely to receive from Google.
While Dell had already had the opportunity to try its luck as a 4th rank Android OEM they have taken the opportunity to be the premier Windows phone 7 enterprise OEM, a niche where they have a much better chance of leading successfully over the next few years.