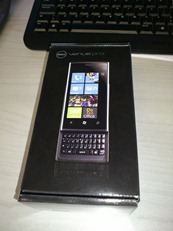 This Windows Phone 7 handset has been delayed so many times we have stopped reporting on it, but Clove has finally announced the Dell Venue Pro portrait slider has arrived at their distribution centre and is now in stock.
The 8GB device with a 4.1 inch gorilla glass screen, 5 megapixel camera and 8 GB storage will be retailing for £350 ($570) including VAT and £420 with the tax added.
While the handset has been plagued with firmware issues Dell has said they will be pushing out an update soon to address this, and hopefully the handsets in stock has this installed already.
Read more at Clove.co.uk here.