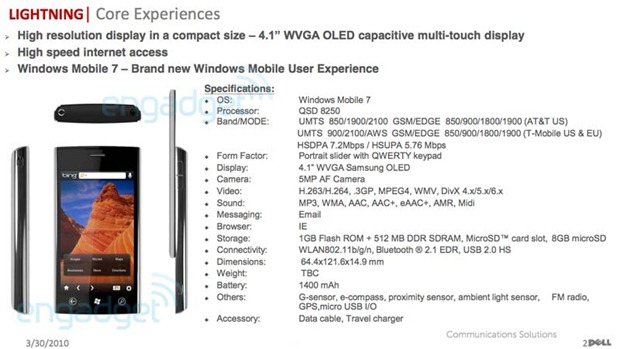 Engadget has managed a scoop of epic proportions with the first Windows Phone 7 device, not from HTC, but unusually from Dell.
The smartphone features the unusual portrait slider form factor, coupled with a 4.1 inch WVGA screen. Even more unusual is that the device only comes with 1 GB of internal storage and then an 8 GB microSD card, which will hopefully be user upgradable (although this is not specified).
This deviation from what we have come to expect may have been explained by the mock-ups being older, but the date on the slide is only 3 weeks ago, suggesting that the device is already in an advanced stage.
See more of the pictures after the break.
[showtime width=630 height=360]
Does this smartphone tempt our readers? Let us know below.
Via Engadget.com
Thanks Rakesh for the tip.