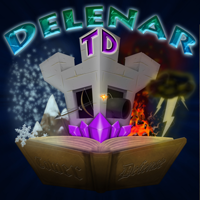 DelenarTD is a FREE Tower defense game in which mobs have buffing spells, the map terrain affects both mobs and towers (positively and/or negatively depending on the type of terrain), and the towers all work differently. This adds a good deal of extra strategy and puzzle solving than the average TD does. DelenarTD also has a daily challenge that consists of 1 attempt to play the randomly selected level of the day. The challenge has its own leaderboards that consists of the scores of that day and the overall accumulated scores from every day, as well as leaderboards for each level.
Features:
12+ hours of gameplay
24 Unique levels
8 Unique towers
9 Unique mobs
4 game effecting terrain tiles
2 damage shields
Daily Challenge / Leaderboards
Individual level Leaderboards
Much much more to come!
Find DelenarTD in Marketplace here.
Read more about the game at the Delenar website here.