A few days ago I wrote an article about my failing to purchase a device from Carphone Warehouse and questioned who was at blame there. The jury is out and Microsoft is safe. EE and Carphone Warehouse are entirely to blame.
After publishing the article, I got an email from a man who claimed to work at Carphone Warehouse. He claimed the reason the nano-sims weren't in stock was because they were being phased out. EE was actively trying to phase out the brands and so therefore there would be no T-Mobile (or Orange) nano-sims in stock. Possibly forever.
Do you see the problem here? Because I sure do.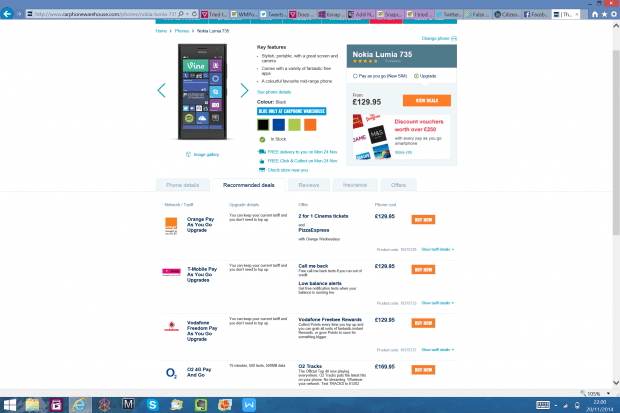 Revisiting the Carphone Warehouse website, I confirmed the phone was still offered (at the time of this writing) as a T-Mobile and Orange product.
Now, anyone can write an email and claim to work for Carphone Warehouse, but I had previously visited a few more stores after writing my initial article. All of them confirming that there was no stock of T-Mobile and Orange sims in London.
If that is true, then why on earth would they advertise the product as being cheap and then refuse to sell it at that price? Assuming they had no T-Mobile and Orange nano sims, to the best of my knowledge, there are a few more mobile carriers in London like O2, Vodafone and EE which should still be active brands?
So why didn't I get them? For one, they are much more expensive (adding a £50 premium)
Secondly, Carphone Warehouse promises to match the lowest prices for all major carriers, effectively allowing you to bring your own sim without switching networks. Don't believe me? See here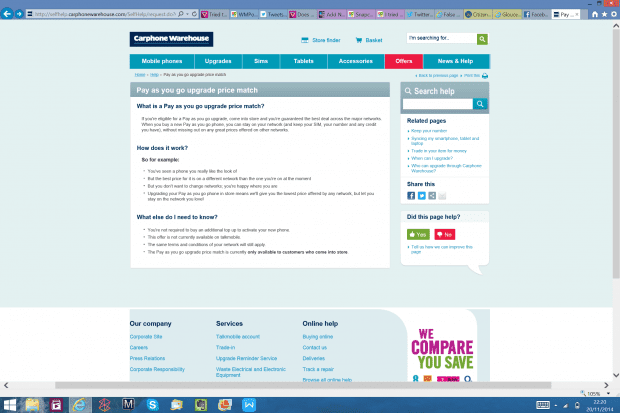 My store experiences on the second try around were more of the same, with the reps now trying to sell me the phone at a higher price than advertised. In the email I received, the man stated "I managed to sell a 735 earlier today but I had to sell it with a Vodafone sim because of the reasons above so the customer had to buy a 20 pound top up as opposed to 10. " While one more Windows Phone is great for the ecosystem and Microsoft should be happy, what was just described there – as well as what I encountered – happens to be banned by the Consumer Protection from Unfair Trading Regulations 2008 which exist to " prohibit 'misleading actions' and 'misleading omissions' that cause, or are likely to cause, the average consumer to take a transactional decision he would not have taken otherwise"
One of those rules specifically states:
MISLEADING AVAILABILITY

bait advertising (or 'bait and switch') where a trader lures a consumer into believing he can buy a product at a low price when the trader is aware he does not have reasonable stock available or is not able to supply at that price, or attempts to 'up-sell' to a higher priced product
falsely stating a product is only available for a very limited time in order to make the consumer make an immediate decision

 
For all intents and purposes, Carphone (and EE) know very well that they do not have stock nano-sims to fulfil the low prices they advertise both online and in store, advertising it is illegal. If, also Carphone Warehouse makes a promise to match the lowest PAYG prices, then why upsell someone if they explicitly claim that they do the opposite? That is also illegal. Microsoft should also be concerned here. Windows Phones are typically stronger in the PAYG market, with cheaper handsets like the Lumia 625 selling a lot. If a retail partner advertises a device as a certain price, then tacks on a hefty price premium at the store, the consumer may decide he's better off getting some other phone for their money. Not too many people would be willing to be fleeced pay extra. I'm certainly not one of them.
So, to the rep who emailed me – and to CPW – I Know you don't care BUT  what you're doing is very wrong.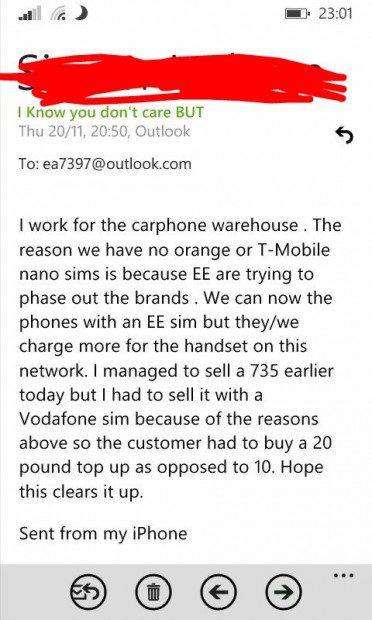 Please stop.