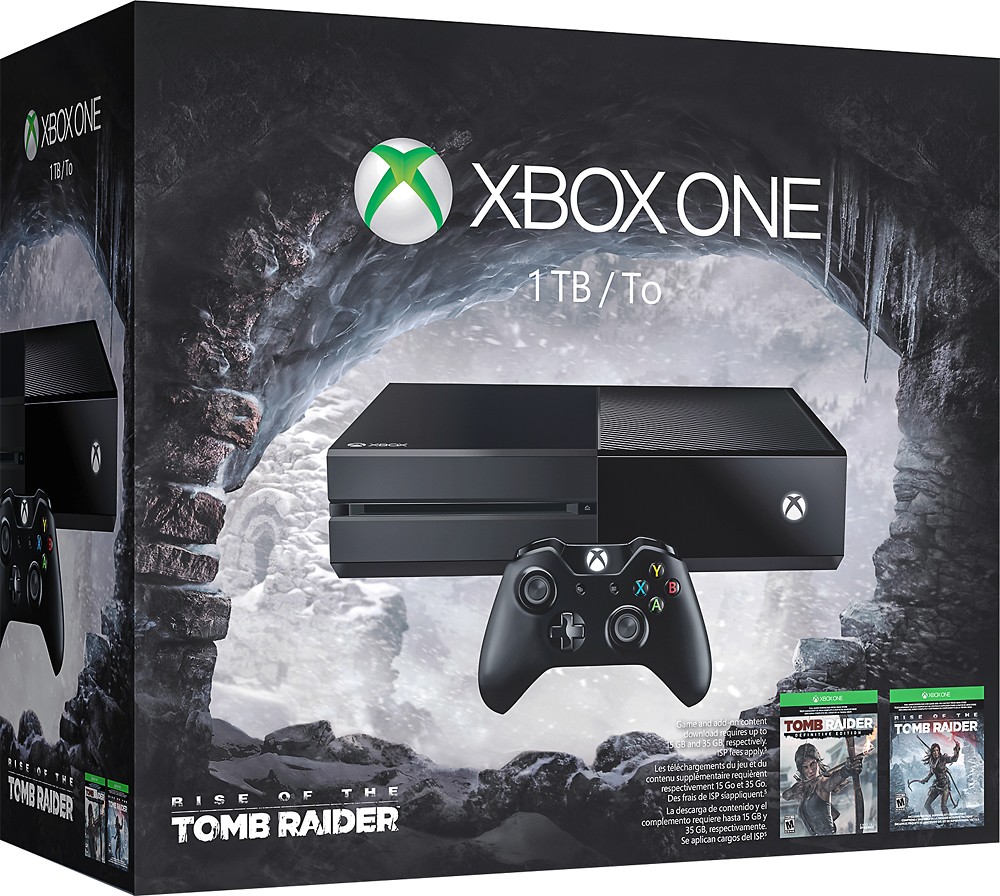 BestBuy is now offering a great deal for Xbox One. You can now get Xbox One Rise of the Tomb Raider Bundle with an extra Controller, 3 free games, BestBuy $50 Gift Card and Insignia Battery Charging Station for $299.
The Xbox One Rise of the Tomb Raider Bundle comes with 1TB console, featuring full-game downloads of Rise of the Tomb Raider, Tomb Raider: Definitive Edition, and the exclusive Tactical Survival Kit Content Pack. Along with this bundle, you will get the following,
Best Buy GC – $50 Gift Card

shipped free; no expiration date or fees; good toward any purchase online and in U.S. or Puerto Rico Best Buy stores

Mad Max – Xbox One

The barren landscape stretches out before you, seemingly unending with no signs of life and no relief from the relentless sun. As you navigate your battering ram of a vehicle over the remnants of a long-abandoned highway, you contemplate this existence you call life. There is no mercy in this post-apocalyptic world and no solace — only the instinctual quest for survival and the cold comfort that is vengeance. You've become a lone warrior, a reluctant hero, but only because your choices were that or death. The only thing that gives you any hope is the thought of leaving this madness behind and finding peace at last in the storied Plains of Silence. You are Mad Max, and these are the end of times.

Embark on a dangerous journey through the Wasteland that is this post-apocalyptic world on a quest to retrieve your Interceptor, which has been stolen by a deadly gang of marauders. Take on each foe with brutal moves and combos that are your only chance of beating the deranged bandits of the Wasteland. Scavenge the landscape for the scraps you need to craft and upgrade equipment, vehicles and weapons — your lifelines in this unforgiving setting. With the ability to construct the ultimate war vehicle by choosing from dozens of customizable parts and upgrade combinations and arming your vehicle with a slew of deadly weapons, you can annihilate enemy vehicles in dynamic, physics-based vehicular combat. As you explore the vast, open-world environment of the Wasteland, take on unique missions and side quests, eliminate eccentric bandits and battle savage gangs. There's only one thing to live for now — revenge.

Batman: Arkham Knight – Xbox One

The shadows are his home and keeping Gotham's citizens safe is his sustenance. Darkness envelops his every move and his legend lives in the whispers of each passerby. Known by many names — the Caped Crusader, the Dark Knight,

Batman

— this man lives to protect. But by pitting himself against the criminals of a city, he has only made his laundry list of powerful enemies grow. One after another, a new and nefarious threat has risen up and one after another

Batman

succeeded in bringing them down. But what happens when those menacing masterminds join forces? Who will rescue Gotham when a deadly roster of depraved lunatics gangs up on the shadowed warrior? Who will save us all?

The finale to the legendary Arkham series explodes onto your screen in the most adrenaline-pumping storyline yet. The Scarecrow has returned to Gotham City and he has united a terrifying team of super villains, including Penguin, Two-Face and Harley Quinn. For the first time in the franchise, you get to step behind the wheel of the iconic Batmobile as you harness the power of Batman and scramble to outwit the wicked gang after your blood. Tear through the streets and soar across the skyline in heart-pounding gameplay that will suck you in and force you to ask yourself if you have what it takes to save Gotham. Do you have it within you to be the hero the city needs? Or will the villains of Gotham overtake the Dark Knight once and for all?

Microsoft – Xbox One Special Edition Covert Forces Wireless Controller – Camouflage

Equip yourself with the Xbox One Special Edition Covert Forces Wireless Controller, featuring a modern camouflage pattern and military look. Impulse Triggers deliver fingertip vibration feedback, so you can feel every jolt and crash in high definition. Responsive thumbsticks and an enhanced D-pad provide greater precision. And with the 3.5mm stereo headset jack, you can directly plug in any compatible headset.

Insignia™ – Battery Charging Station for Xbox One – Black

Hair-raising thrills, action-packed excitement, explosive battles and adrenaline-pumping competitions are what keep you coming back for more. Your Xbox One is a window to other worlds of awesome gameplay and entertainment, but you hate it when the juice runs out and you have to scramble to get fresh batteries for your controller. With this

Insignia™ Battery Charging Station

, you'll be able to rest assured knowing your controllers will be ready for the next adventure when you are.

Make sure your Xbox One controllers are powered and ready for use when you are with this Insignia™ Battery Charging Station, which includes two rechargeable battery packs. The battery packs' generous 1200 mAh capacities ensure lengthy gaming sessions, while the station's LEDs allow you to stay apprised of the charging status. Enjoy easy access to the station's USB data and power pass-through port. Enjoy peace of mind knowing your next gaming adventure can begin right away by keeping the juice flowing with the help of this Insignia™ Battery Charging Station.