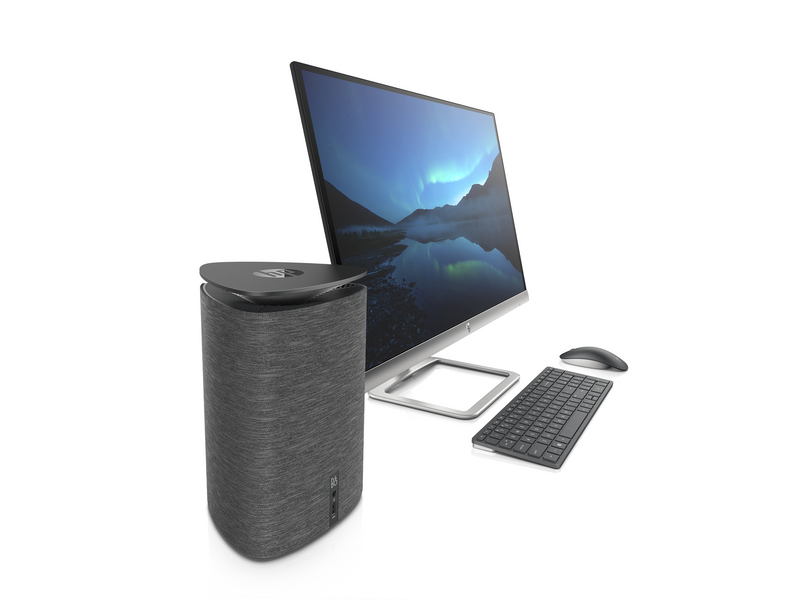 The HP Pavilion Wave is a stylish desktop PC with a small, creative design for customers who want a PC that can fit into small places,  offering a beautiful and compact device with the power of a full-sized desktop.
HP is currently clearing refurbished version so of the device for only $299.99 on Woot.com. The device debuted at $549 less than a year ago and is currently $449 new.
The HP Pavilion Wave features an iconic triangular form with an innovative parabolic reflector with an integrated speaker on top of the PC for superb, 360-degree sound to fill a room with crisp audio. It is 85 percent smaller than traditional tower PCs at 6.81″ x 6.62″ x 10.29″. Imagine the Wave as a beautiful speaker that can also act as a PC.
The desktop design is built around the central audio system and finished with premium materials including acoustic fabric engineered for room filling sound. A parabolic reflector on top of the PC reflects the sound coming from the speaker grille in parallel from all directions and acts as an outlet vent for hot air to come out. The 360 Degree Multi-Directional Reflective Audio delivers a crisp audio profile at all frequencies and is tuned by B&O Play for amazing sound whether listening to mid, high or low ranges.
The triangular design houses three main zones for components: the motherboard on one side, the hard drive on the second side and thermals on the third side. The thermal design uses heat pipes to extract heat from the motherboard and the graphics card to push out the top of the PC to keep the device running cool.
When connected to a monitor and using Cortana's above lock screen features it could make for a much more powerful Amazon Echo Show replacement.
Other features include:
Get reliable performance from the Intel Core i3-6100T 3.2GHz Dual-Core processor
8GB DDR4 memory – For multitasking power; supports up to 16GB
1TB SATA hard drive has plenty of space to store your digital albums, music library and rich media files
USB 3.0 has transmission speeds of up to 5 Gbit/s, which is 10 times faster than USB 2.0
Enhanced viewing with the integrated Intel HD 530 graphics
Connect to a broadband modem or router with wired Ethernet, or wirelessly connect to a Wi-Fi signal or hotspot with the built-in 802.11b/g/n wireless connection
Easily link with other Bluetooth-enabled devices, such as a mobile phone or MP3s players
The front-panel memory card reader makes it easy to transfer photos, music, and other files to and from your digital camera and other peripheral devices
Windows 10 is so familiar and easy to use, you'll feel like an expert. It starts up and resumes fast, has more built-in security to help keep you safe, and comes with great built-in apps like Maps, Photos, Mail & Calendar, Music, and Video
Grab the deal, which has only a few hours more to run, at Woot here.