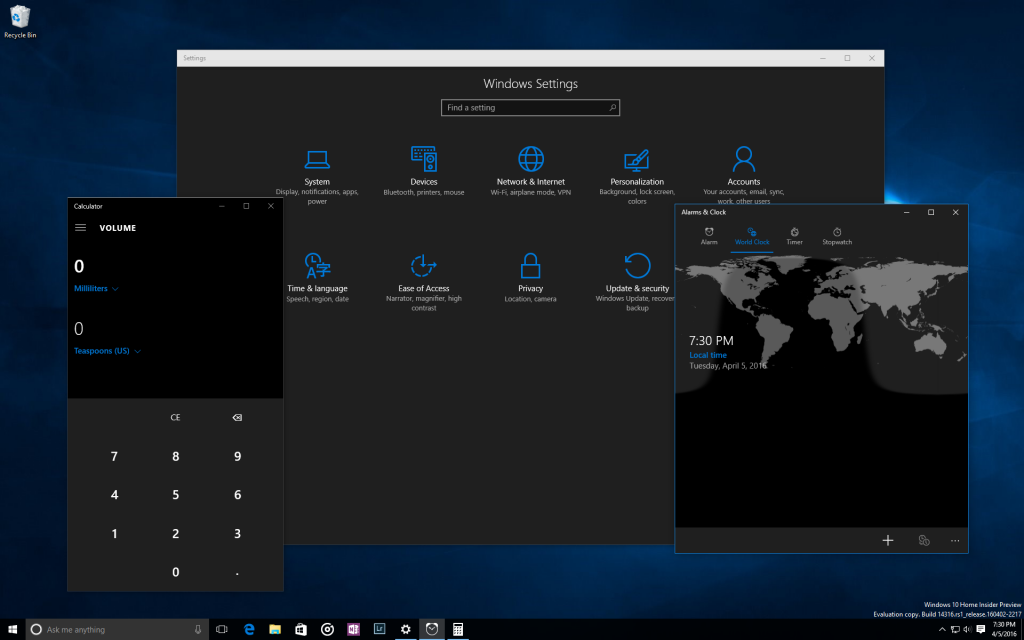 Windows 10 is a versatile and customizable operating system ad allows users to choose how their apps UI looks.
While we've discussed how to customize the base operating system, and we can link to it here, but many users of Windows 10 spend far more time using apps and the web than they do in the main OS itself.
For the Universal Windows Apps
You can change nearly all Windows 10 apps to the dark theme via Microsoft's global dark app setting, for more info look here.
The Office Suite

Microsoft's Office Suite has a built in dark theme that not many people are aware of. When activated, this turns all your Office apps from PowerPoint, to Outlook to OneNote, a solid black and is very easy on the eyes especially when you're working at nighttime.
You'll need to have Office 2016 and not the Windows Store Office Mobile versions of course.
Here's how to use it.
Launch any Office 2016 app.
In the File Ribbon Menu, tap and select "File"
In the File Page, navigate to Options, this is at the bottom of the screen.
In the Options windows that pops out, under "General", there is a "Personalise your copy of Microsoft Office" sub-menu.
Under Office Theme, select "Black". You can also Select "Dark Gray" if you want something a little more gray while still being dark.
Microsoft Edge
While you can generally dark theme universal apps simply by using the global switch in the settings menu, the Microsoft Edge browser isn't one of those apps. You'll need to change the theme from the Edge browser itself to gain a dark theme on this app.
To change the Microsoft Edge browser, here's what's you do:
Launch Microsoft Edge and navigate to settings by tapping the "…" button"
Under the "Theme" option, you can now switch from light to dark.
Google Chrome/FireFox/Opera

Much like Edge, the main Internet Browsers do not change their themes via the system global settings.
You can get around this by installing various themes and add-ons from their various stores.
Chrome, for instance, has a selection of dark themes highlighted, and for Firefox you can check here for various dark themes.
Opera does not support full dark themes unlike the others but can allow users to set dark wallpapers on their "speed dial~" page. This isn't as useful as an actual dark theme, but if you're an Opera user its better than nothing.
High Contrast Mode
Microsoft's High Contrast Mode is a sort of forced dark theme. You can set a high contrast mode to force all apps which support Windows 10's Hugh Contrast Mode into a dark theme including the File Explorer app. However, this method isn't very desirable as it does mess with your wallpaper and significantly neuters the aesthetics of Windows.
Here's how to activate it:
Navigate to settings > Ease of Access > High Contrast
Select the "High Contrast Black" Theme
You can create your own custom dark theme to help with the clashing colours if you're only using this for the dark theme – but again – this isn't desirable for most users.
---
Of course, you'll get the best dark theme experience if you stick to Windows 10's Universal apps, but that's not practical or desirable for most people.
Fortunately, while apps like Spotify and Visual Studio come with a dark theme, there are still ways to get your favourite Windows apps in an eye-friendly black.