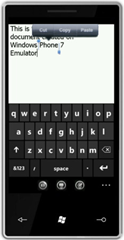 We know its coming soon, but it is reassuring hear that actual evidence of the feature being implemented has been found in a leaked build of Windows Phone 7.
The text was round in a Internet Explorer Mobile and was outed by our old friend Conflipper and reads as follows.
|Cut|Copy|Paste|Encoding|Print Preview||

"Cuts the selection and puts it on the Clipboard."

"Inserts the Clipboard contents at the insertion point."
Also of note was some text related to being banned from Xbox Live:
This phone has been banned from Xbox LIVE for violating the Xbox LIVE Terms of Use. To protect the Xbox LIVE service and its members, Microsoft does not provide details about phone bans. There is no recourse for Terms of Use violations.
Harsh, but fair 🙂
Read more at WPCentral here.