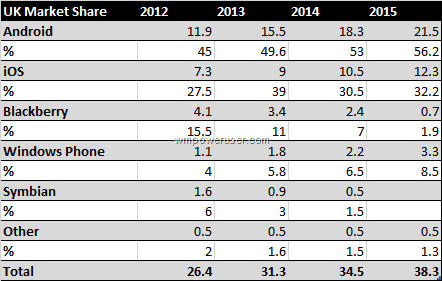 While both Windows Phone and Android has been challenged by a resurgent iPhone at the end of last year, Windows Phone has built up a solid user base in the island nation.
According to figures provided by analyst company eMarketer there are currently 3.3 million Windows Phone users in UK, up from 2.2 million a mere 8 months ago in June 2014.
This makes up 8.5% of the market, and compares to Android with 21.5 million users and 56.2% of the market and the iPhone with 12.3  million users and 32.2% of the market.
The biggest loser over the period has been Blackberry, which has dropped from 2.4 million users in June 2014 to 0.7 million users (1.9% of the market) at present, and a radical slump from nearly 8 million in June 2012.
"BlackBerry's fall from grace has been spectacular, but these latest figures show that even its previously loyal core seems to be leaving in droves," said Bill Fisher, UK analyst at eMarketer. "Its market share has been decimated by Android and iOS, and more recently by Windows Phone, which is slowly gaining a foothold in the UK market."
The numbers show how dynamic the market really is, which should serve as a warning for those who predict that everything will remain the same as it is now.