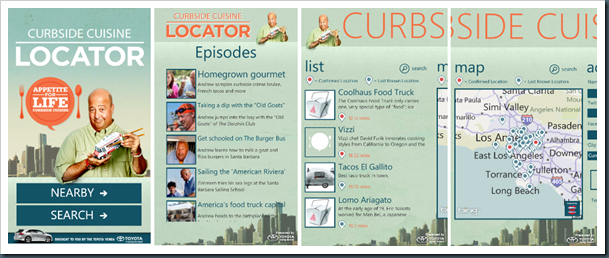 This seems to be a great app for anyone with a sense of adventure in trying out unique dishes on the go. It is done in partnership with Andrew Zimmern, host of the popular Travel channel TV show, Bizarre foods with Andrew Zimmern. From the app description
To celebrate Andrew Zimmern's curbside culinary adventures in the Appetite for Life web series, we've made the first in-depth nationwide food truck app. The app is simple to use: look up information on your favorite food trucks, see what trucks are close by using your phone's GPS, and find delicious treats that used to be hard to track down.
It's easy to use and can lead to many new mouthwatering experiences. Like Andrew and his Toyota Venza, we hope this helps you and your car start a tasty trip.
The app just received an update on December 16th so now would be a good time to try it out.