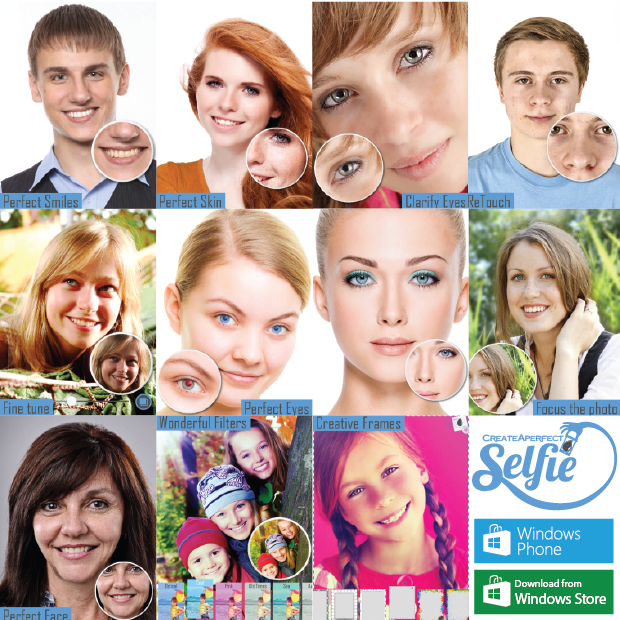 Create A Perfect Selfie
Turn every selfie into perfection !
This app includes an extensive set of tools to further perfect your shots. Perfect face in just a few touches!
• Whiten Teeth
Make your teeth gleam like never before with magic teeth whitener
• Smooth
Amazing Beauty selfie!
Smooth and rejuvenate your skin.
Blemish removal fades the appearance of any annoying imperfections.
• Details
Clarify your the best areas of your face.
• ReShape
Reshape your facial features without any Botox or an expensive visit to the plastic surgeon!

• Clone
Clone stamp tool allows you to copy one area of an image and copy it onto another area. if you have one that needs some retouching use that one.
• Tones
Easily apply eye shadow and colors for the look you want
• Red Eye
Red Eye Removal so using flash isn't a problem.
Change your eye Color.
• Defocus
Focus the photo on you, by defocusing or blurring the background
• Color
Make your images vibrant
Fine tune Vibrance for the most vivid image possible
Adjustable brightness, contrast, Highlights
&Shadows,Exposure
• Filters
Instantly choose from over 49 Preset Effects including adjustable light and Vignette, to give your image the mood you desire.
Make your selfies creative and unique!
• Frame
Select one of 100+ picture frames to add to your final image, to give it that finishing touch