Engadget has some exclusive pictures and more info on the Microsoft Courier tablet.
They report the device runs Win CE (likely 6), is 5×7 inches closed, weight a bit more than half a kilogram, will functional as a digital journal and synchronize with the cloud.
They say:
As we've heard, the interface appears to be pen-based and centered around drawing and writing, with built-in handwriting recognition and a corresponding web site that allows access to everything entered into the device in a blog-like format complete with comments. We're also hearing that there will be a built-in camera, and there's a headphone jack for media playback. Most interestingly, it looks like the Courier will also serve as Microsoft's e-book device, with a dedicated ecosystem centered around reading. It all sounds spectacular, but all we have for a launch date is "Q3 / Q4", and we have no idea how much it's going to cost, so we're trying to maintain a healthy skepticism until any of this gets official — call us any time, Microsoft.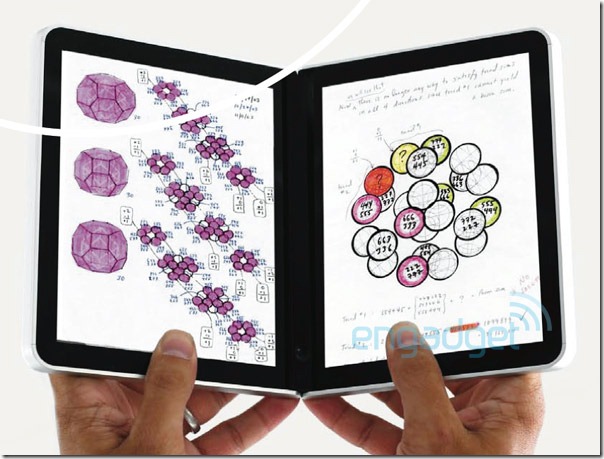 See the full gallery of screen shots after the break.
Click larger versions
More at  Engadget.com.