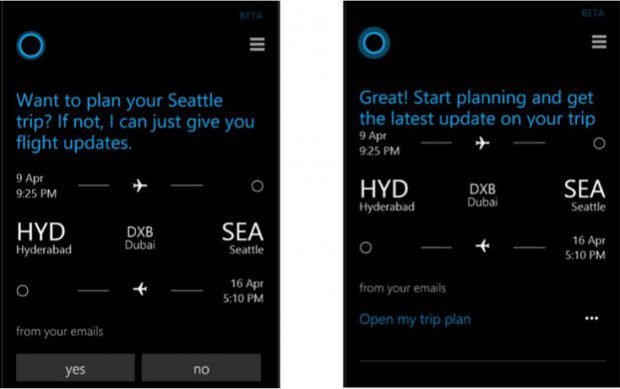 Cortana's always tracked your flights, but with today's update, Cortana now goes above and beyond to help you with your trip. When you get any flight confirmation mails, Cortana will track it and ask whether you need help in tracking it. If you say yes, Cortana tracks this trip in the Notebook, allowing you to find key trip-related information, all in one place.
You can now ask Cortana "show me my flights" or "show me my trips" to access all your flight and travel plans at any time. You can also get info about specific flights in a number of ways, including through a combination of destination, month of trip and airlines — e.g. "show me my flights to Seattle in December with Emirates."
Cortana will now let you know when online check-in opens up, giving you the chance to grab the best available seats. Clicking the link takes you straight to your airline's check-in page. Cortana will also give you the latest weather at your destination and a five-day forecast, helping you decide whether to pack the sandals or the snow boots.
On the day of your flight, Cortana starts monitoring traffic conditions a few hours before your flight and lets you know when to leave for the airport. Once at the airport, Cortana provides a venue map, so you can quickly drop off your bags.
If you are flying internationally, Cortana brings up a currency convertor to help you in converting local currency to foreign currency.
To get help with this new trips feature, go to Cortana > Cortana's Notebook  > Interests, and then tap Add  > Travel > Trip Planner.
Source: Microsoft