Preview : Cortana on Windows Phone 8.1
Unleashthephones have posted another instalment of their slow Windows Phone 8.1 reveal, this time of Cortana in action.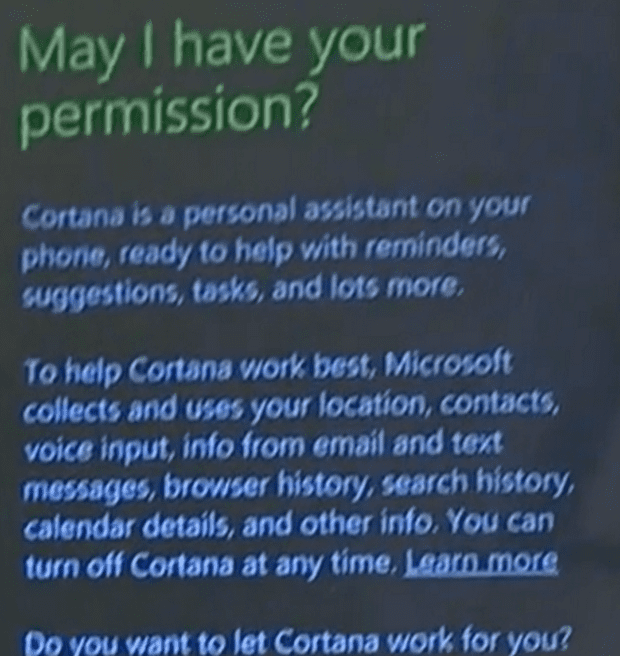 The screen shot above indicate that the service uses many more data sources than we expect, including:
Location
Contacts
Voice input
Email and text messages
Browser History
Search History
Calendar details
More
It only works when you sign in using a Microsoft account, much like the other Bing apps. It will let you name yourself (Is Masterchief taken) and also make sure it is pronouncing it right.
It will let you directly set your interests e.g. cooking or watching TV, which should get it up and running as fast as possible.
The video shows its understands semantics e.g "put on my favourite playlist" rather than needing exact input.
Interestingly Cortana will be able to "handle your calls and texts" during quiet hours.  Does that mean a Cortana based answering machine in your phone?  That would of course be rather cool.
More likely it will be that your phone will automatically be placed on Vibrate during meetings, inner circle contacts will be let through, and more interestingly if some-one tries to call you repeatedly, it can also let that person through. The phone can also text contacts automatically if their call is dropped, or it seems interact with callers by text.
What do our readers think of the app in action? Let us know below.
Thanks CODER_FOT for the tip.